Tech Devil
Administrators
​
Developer:
Randomcrow
Patreon
-
Blogspot
Version:
4.0.2
Release Date:
2020-02-09
Last Updated:
2020-06-24
Censored:
No
OS:
Windows,
Language:
English
Genre:
2D Game, Animated, Male protagonist, Simulator, Brothel, Prostitution, Titfuck, Bestiality, Group sex, Anal sex Oral sex, Vaginal sex,
Overview:​
Assign your girls to a work room and swap them around if necessary. Does your girl meet your costumers likes? If so, what are you waiting for? Show him her room! You've got a lot to do. Observe your girls, if they are doing their job well. The happier a client, the more coins he will leave for you to improve your brothel. Furthermore his word-of-mouth is required to allure more of his kind.
Changelog
:
v4.0.1 Fix
Updates:
researching now gives general level experience for Cassandra and any slave / monster girl that is helping (about half a level each day)
the player can upgrade that on the techtree which adds another 50% extra exp for 1 flask
two new cheats for sherlock crows (10$):
full heart bar for Madeline
full heart bar for Cassandra
(remember that the dialogues for each specific character still need to appear after one in-game day to activate the lesbian scenes)
Changes:
reduced the amount of happiness that get subtracted if the girl dislikes an activity. Simultaniously, she will now leave if her happiness bar is at 10% max and not 0%. I did this change mostly to work around a bug that is listed below and marked with #1
Bugfixes:
there is a good chance I got the elevator bug. But I just can know for sure after some people haven't encountered it anymore in a long time
fixed a bug that massively slowed down the game at a certain point (also Amanda's stats could have been saved wrong)
(#1) slaves /monster girls with low happiness often did not escape your brothel
somebody mentioned that Amanda does not gain experience in BDSM. I have not tested that, but if this was the case then this issue was linked to the slow down bug (there was the same bug report about service as well)
the same goes for the bugged fast forward mode. It was not the fast forward, it was the framerate that was broken, cause of the slow down bug
fixed a bug that let maids swap their broom closet room with VIP's or monster girls
fixed bug that when sending amanda traveling from a gym room, the room still counted as occupied and the player couldn't send another girl there
fixed an issue when pausing the game while one of the VIP's is with a client in the bar
fixed some issues with the bdsm animation for slaves with long, red hair (threw a minor error)
same with a long haired lioness in the gloryhole animation
same with any bunnygirl in the gloryhole animation
a brunette lioness with long hair was falsely claimed as "light hair"
gallery stops working when reaching to kobold and trying to select next girl
v3.9
Updates:
cleanliness update:
new brothel room: broom closet
new game mechanic: dirt
slaves as maids
3 (in 1) new animations for the maid
new tech tree upgrades: 'maid slaves', 'clean clients', 'ignore dirt' new CG for Cassandra
new dialogues (one is connected to the new CG)
animation for Cassandra (you need every location unlocked to activate her dialogue)
codes for sherlock crows (10$) supporter
can exit a girls status card manually (cause there were cases, where it stayed on the screen)
rooms on key buttons to instantly zoom in on the assigned room (press ctrl + (1-5))
small stuff, that didn't make it on this list

Changes:
due to the broom closets there is one room less to buy for the player each floor
the upgrade "better slaves" now has two more steps
(v.3.8.1) the price, maintenance cost, and everything else for gloryholes and animal shows got swaped. New prices:
animal show: 2000 coins, 80 maintenance, 4 reputation, base coins per client: 30
gloryholes: 1500 coins, 60 maintenance, 2 reputation, base coins per client: 20
Bugfixes:
brothel rooms bugged out, when you swaped girls there and assigned them to the mansion afterwards
there was an exploit, that let your girls use rooms that their have no level for
a bug, where you could add a vip to another vip in the priveshowroom, while the girl already inside the pvt. show room was with an animal
bug, that didn't active lesb action between Amanda and Madeline, if you add Amanda to Madeline (whosits in a prive show room) from a BDSM room
new version should be out soon™
v3.8
Updates:
running costs

each building (except VIP rooms and the bar) will cause daily maintenance costs
each girl will use coins for costs of living every day
taxes (10% of income)

mechanical love

8 new girl x machine animations
new gyms that are used as training rooms in the mansion
girls can improve specific skills there (it's possible to train a girl in a skill she hasn't unlocked yet)
it also increases the main level simultaniously
you can use those machines in private show rooms as well, but they are purely cosmetic there

three new dialogues; one of them is conected to a new in-game hentai CG
three new upgrades on the techtree: "tax reduction","gym skill" and "gym level"
gained reputation and coins are visible over the head of a client to get more transparecy about the numbers
there's a bar on the top of the hud now that shows the progress of your next reputation level
a message pops up when a girl reaches a new level
you can't give birth control pills to (currently) infertile girls anymore, just to keep the player from wasting coins by accident
you can now see a girls fertility on the girl list
the animal show and gloryholes now provide experience points for your girls (like bar work does currently as well). It is one third of the common amount
the result screen at every end of the day does some enhanced calculations now to fit the new running costs
Changes:
if the level experience is higher than what is needed to level up, the remaining exp get added to the new level (don't know why I haven't done this ealier)
the rewards of the (re)quest "Quite tolerant" got nerfed by 33%
the effect of the upgrade "recommendation" got nerfed by 30%
Bugfixes:
the (re)quest "Quite tolerant" only offered flasks as a reward. Now it can also offer coins or reputation
client demand "kobold" and "excotic hair" won't be asked together again
fixed a bug where you were able to add a 3rd slave into a slave chamber (fixed for public version too)
v3.7
Updates:

new animal that can be found in the mountains: the Yeti
includes 8 brand new animations
1 new dialogue
added yeti trivia
added new CG for lioness and kobold. (You can find the CG's in the bar hanging on the wall as photos. Reach the neccessary reputation to unlock them piece by piece)
added a SubscribeStar link

Changes:
lioness' walkcycle looks more natural now

Bugfixes:
bug that always wanted to have 99 service points for a request
bug that showed the reward of the request "New offers" as NaN when it was about gloryholes
music starts playing again if you turn it on (stopped working when turned off the first time)
a slaves likes/dislikes ignored horses
got rid of a potential bug when trying to move madeline out of a private show room while still with a horse

I did some code optimization in hope to get rid of some of the awkward bugs. The chance that this worked is pretty slim tbh BUT if it worked then I got quite a bunch of them. And if it doesn't work then I now at least that the things I fixed weren't the problem (all Bugfixes in public v. 3.6 as well)

Hints:
if you click the name of a slave / monster girl you can change their name. If you don't press [enter] after you are done, the girls information won't disappear! If this happened you might have accidentally clicked her name.
Updates: new monster girl: The Kobold (+15 new hentai animations!!!) she can be found in the new location: the mountain two new dialogues the game diffiulty has been increased. The clients worked actually different than I intented since version 3.3. If at least one demand was fulfilled, everything was fine for them. NOW EVERY DEMAND MUST BE FULFILLED! if not, then the tolerance system comes into place added unlocking mountain and savanna as a request on the request board (forgot savanna actually when it was added as a location) if a slave has <= 20% happiness, there will be a warning for the player added three more CG's (Slave, Plantgirl, Bunnygirl) to the already existing ones (Amanda, Madeline, Cassandra) I put in a function to delete bugged clients. This is supposed to work only on them who get stuck in front of the elevators. Just click them once and they will get removed from the game. This won't cost you reputation. If even this function doesn't help please tell me, since it helps me finding the actual bug (implemented in public v.3.5 as well) Changes: all girls now earn base level exp on the bar as well (33% of what they would get in a brothel room) femdom + slave on a clients wishlist is no longer possible (all Changes in public v. 3.5 as well) Bugfixes: background music loops again fixed a layer issue between cassandra singing on the stage and a serving slave / monstergirl
when amanda is "busy" with the captain and dialogue between her and whoever pops up, there were 2 Amandas in her room. I simplified some code for that; hopefully it works. If similar cases oocur, please contact me if you already had an animal show / gloryholes, the game offered you it again, which is not possible to have 2 of those rooms of the same type it substracted coins when clicked. I also fixed a small spelling error there fixed a small queue of clients issue on the bar. After one left cause his conditions weren't met, the queue started further away from the elevators price of unlocking locations has been reduced fixed a bug on which a lioness in the second and third gloryhole booth won't continue her job when unpausing (all above Bugfixes in public v. 3.5 as well) there actually is a pretty good chance that I got the client-walking-endlessly-in-front-of-the-elavator-bug
DOWNLOAD
Win -
MEGA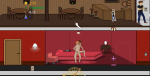 ​
Last edited: