Tech Devil
Administrators
​
Developer:
Mike Velesk
Patreon
-
Website
-
Wiki
Version:
0.9
Release Date:
2020-02-24
Last Updated:
2020-08-11
Censored:
No
OS:
Windows
Language:
English
Genre:
3D Game, Fantasy, Male protagonist, Animated, MILF, Virgin, BDSM, Corruption, Cosplay, Group sex, Exhibitionism, Graphic violence, Slave, Combat, Handjob, Oral sex, Vaginal sex, Internal view, Breeding, Slave training, Gore
Overview:​
You play a role of a young prince who was ousted by his mother and is now in exile. It is up to you to seduce your allies, corrupt your enemies and regain control of your throne. You will take a role as a champion of the Goddess of Lust to take control of the kingdom.
Game has an RPG and management elements - you gain skills while you must also develop your castle as a base of operations. Game includes a real time combat system where you must summon minions to tank your foes while you cast spells to either kill, or enslave them.
Changelog:
v0.9
Story of inquisitor Sallia and countess Alizabeth concluded.
There are three possible endings (two violent and one peaceful).
Alizabeth's maid Dora added into the game.
If you finish the quest "Red lust" and Alizabeth is no longer at the castle, Dora will join you at your castle.
Princess Lana got a full voice over
Music added into the game for most locations.
Sound effects added for combat scenes.
0.75
Princess Lana added. Her quest line starts after you complete the bandit camp and free Lyria. Speak with Hesy about the princess.
Diana's story continues. After enough Lust and Devotion, you can perform initiation ritual with her. After the ritual, she will be at the guard post outside your castle. You will be able to hire three virgin guards from her.
Spells added - data structure to the combat mechanics for both allies and enemies. Three spells are currently functional: Priestesses will heal their allies, amazons will use whirlwind attack for area damage and you can use "Spiritual dick" spells from Jennyfer's story line to stun enemies (and disrupt their casting).
Several bug fixes and optimizations. For example, combat now should be smoother as the frame rate optimization was implemented.
v0.7
-
Jennyfer
and the Academy of Magic added. Quest-line starts when you study poetry or philosophy at least 4 times at your castle' library.
-New enemies added - Assassins and Ghouls. Ghouls will also become your third summonable after completing the quest. They have scenes with mind broken enemies, so check them in combat.
-Random dungeon generator. Dungeons can be now easily generated from the construction set. Size, difficulty, loot or enemies can be set for dungeons, so it is very flexible tool.
-A new spell and magical essence added to the game. When acquired, the essence can unlock additional scenes with maid Ella and page Lyria.
-Minor changes to combat system, inventory system and several other features.
v0.6
-Amazons and centaurs added to the game. Amazons serve as breakable enemies. Centaurs are both enemies and summon-able allies (after short quest). Centaurs can have scenes with mind-broken enemies.
-Amazon queen Diana added. She is a sister of queen regent Augusta and can be captured after a short quest. When she is in your dungeon, you can train her the same way as Pyia.
-Memory management for the game fixed. This should fix all memory related problems and exceptions.
-New scene for maid Ella and cook Ana with dildo. Some changes to existing scenes, several bugfixes.
v0.5
- Village attached to the castle added. You can access it through the main castle's gate from the day 2. Village includes abandoned convent, trader and several villagers. You can buy gifts at the trader and give them to villagers - they will sometimes reward you for it.
- Continuation of Pyia's story. After enough quality time in dungeon, you can now start Initiation rite with Pyia to turn her to your side. After the rite, she will move to a nearby convent. You can than specialize the convent into either hospital or shrine and accept one novice into it. She will serve either as a nurse or a nun, while Pyia will slowly corrupt her.
- After wining over Lyria, you can call her to the temple (from the throne) and start Initiation rite with her. Both Lyria and Pyia can be sent to breeding pit after their initiation rite, where imps can be summoned for them.
- Combat reworked. There are now three types of damage (normal, piercing, magic) and three types of armor (light, medium, heavy). This form a "rock, paper, scissors" system. To make combat easier, you can now also by potions from the village trader.
- Entire game was moved to a new platform. This was technically a big change and may caused bugs that I was not able to detect during testing (so thanks for all reporting). Besides many advantages to have all games under one platform, WOL should now run smoother, especially during combat
v0.4
New character - squire
Lyria
. After you get a quest to clear a bandit camp from scribe Hesy, you will free Lyria and she will serve as your squire. She will advise you to rebuild a training grounds at your castle, where you can train together.
- More content for cook Anna. You can now order her to do a storage room inventory during evenings to have some private time with her. After gaining enough Lust and Devotion with her and Ella, she will offer you to help her give sexual lessons to Ella during evenings in their bed.
- New raid on bandit camp, with a new breakable enemy - a rogue. If you break enemies (priestess, or rogue in v0.4) and you are not fighting, you can click on them to initiate a scene with them by yourself (instead of letting them to your imps). You must do this fast, before imps will outrun you.
Many aspects of the game were redone, including attributes system. There are no longer "Love" and "Fear" stats, but a "Devotion" stat instead of them. Player's skills were also changes into "impressions" and were rewritten and reduced.
v0.3
New content starts when you raid a monastery. This time, you will bring home also someone else other than Pyia. It will start a new quest line, which will bring you back to court and on a hunt for a powerful relic.
In this version, there are two new characters, more scenes for court handmaiden, one more dungeon to conquer and many other small tweaks, such as slight lighting change during day periods, etc.
v0.2
It focuses on the seduction of your maid Ella and corruption of your first captive Pyia. There are quite a lot of new scenes, so check it out. There was also a large overhaul of the gameplay. Day is now divided into four periods (morning, midday, afternoon, evening) and you progress through them by performing some action (sex scene, learning new skill, sleeping...). You must, for example, train your skill in poetry to impress Ella to progress with her seduction.
There have been a lot of new tweaks. I'm experimenting with x-ray vision - it now show rotation of a body during a scene and is now also available during pussy fingering scenes.

During conversation with a person, you can display their info and attitude by clicking info button next to the conversation window. Some sound effect has also been added.

Premium tab in main menu is now open and you can insert our premium code to initiate cheats.
DOWNLOAD
Win -
MEGA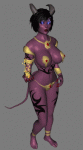 ​
Last edited: