Tech Devil
Administrators
​
Developer:
Cursed-Atelier
Patreon
- Website - Discord - Twitter
Version:
Alpha Release 0.31
Release Date:
2020-03-30
Last Updated:
2020-04-06
Censored:
No
OS:
Windows
Language:
English
Genre:
2DCG, Animated, Female Protagonist, Adventure, Combat, Puzzle, RPG, Sci-Fi, Strategy, Turn Based Combat, Anal Sex, Ahegao, BDSM, Creampie, Groping, Multiple Penetration, Oral Sex, Rape, Sex Toys, Spanking, Tentacles, Vaginal Sex

Overview:​
The earth is sucked into a war between alien species, and the heroine has to venture to worlds never before seen by mankind to find a way to stop it. The game is a sci-fi ero RPG with a focus on variety in combat mechanics. The character's abilities will be determined by a wide variety of equipable weapons, psi amps, and support gear, and each combat area will have its own unique spin on battles.
Changelog:
v0.31
Added 2 new H scenes.
New additional story content.
New standing art variations.
New characters introduced.
New maps with additional "secrets" for players to explore.
New sexual attack variations during combat.
New tilesets. Furthermore, sprites updated to HD standard all across the board. Players will now feel more in sync with a futuristic sci-fi setting.
New UI implemented. Saving or loading of content no longer limited during game play sections only. Players can now freely do so during dialogues as well.
New soundtrack added to various sections of the game.
Combat speed enhanced. Players can get through enemies quicker now.
Combat balancing tuned further. New craft able mods should make the experience more interesting.
Dialogue log initiated. Players can now access missed/old dialogues by a simple click. Presently limited to 20 messages only.
Intro lore extended. Caly's story no longer changes gear abruptly after her rescue.
Cinematic changed to a movie file. It's now possible to pause the game with "Enter" or "Space" and skipped entirely by using "Shift".
Gallery Mode added for players who would like to revisit sexual events.
v0.22
FIXED some grammatical errors.
FIXED Caly unable to orgasm during combat.
FIXED Caly's sprite update issue when she exits the server farm.
Slightly nerfed enemies.Developer Log:- v0.22

FIXED some grammatical errors.
FIXED Caly unable to orgasm during combat.
FIXED Caly's sprite update issue when she exits the server farm.
Slightly nerfed enemies.
v0.2
FIXED Caly climbing up/walking through walls and over some roofs.
FIXED the wooden door near light puzzle entrance that allowed players to jump around different maps.
FIXED msgimg_2 file missing error when multiple orgasms are reached during combat.
FIXED lightning flicker when Caly enters or exits maps.
FIXED some overflowing dialogues.
Altar room was revamped and new game-play additions were made to make the goal clearer.
Reduced the amount of enemies in certain sections of the dungeon to mitigate repetition fatigue.
Buffed Caly slightly so she can finish combat faster.
ADDED "Combat Tutorial Book" under Key Items that will allow player to trigger Combat or Sexual Tutorials at will.
Caly's sprite does not update after she exits the server farm. Issue has been fixed but since it isn't game breaking and resolves automatically, no fix has been floated yet.
v0.1
"Remember" command in menu options is non-functional.
"Mods" on weapons are currently disabled. You can still install them but they will provide no stat benefits.
Dialogue log system is still in the works. Same for temporarily hiding the dialogue box.
Some sections of walls and roof appear warped.
Lava bot sprite goes missing. The issue is being investigated but isn't game breaking.
Random crashes might happen now and then. They are rare and we're investigating these instances.
Developer Notes
:
This is an early WIP[Work In Progress] release. The combat, UI, story, game-play mechanics and many other facets of the game will see drastic changes overtime. Additionally, we also plan to add in more content over the course of the game's development cycle which will instill it with more variety. To stay up to date with the game, make sure to check our Twitter feed regularly. Alternatively, Discord is also a good place to get in touch with us directly. Finally, do drop by our Patreon if you are interested in getting access to exclusive goodies!
DOWNLOAD
Win -
MEGA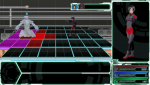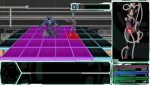 ​
Last edited: