​
Developer:
fidless
Patreon
- Discord - Newgrounds - Itch.io -
Twitter
Version:
0.5,1
Release Date:
2020-05-07
Last Updated:
2020-05-09
Censored:
No
OS:
Windows, Linux, Mac, Android,
Language:
English
Genre:
3DCG, 2D game, Male protagonist, Vaginal sex, Handjob, Footjob, Prostitution, Oral sex, Creampie, Animated, Brothel management, Humor, Drama, Virgin, Trainer, Simulator, Creampie, Teasing, Groping, Anal sex, Mobile game
Overview:​
Wicked Rouge is an interactive NSFW Adult Visual Novel & Brothel Management Game in development and created by fidless.
Wicked Rouge is a story-driven brothel management game set in fictional Edo Japan.
After many years of your carefree life traveling around the country, you return home only to find out that someone has murdered your father and sent assassins after you. Barely avoiding certain death, you're forced to take over the family business in one of the most recognized pleasure districts in Hana city. However, you realize that your father's business was struggling and counting its last days before closing the doors, but with the intervention of the local boss-like figure, you're given a second chance to keep the building. With barely enough money to survive the coming months and a few courtesans in training, you've decided to return "The Red Petal" pleasure house to its former glory.
Changelog:
v0.5.1
N/a
v0.4.1
Possible fix for "freeze" error during management dialogues in the office.
Experimental additional changes to courtesans profit calculations.
v0.4.0
Fixed "low maid efficiency" indicator not showing.
Added mental states.
Added requests.
Added talents with additional new features. (use item "reset talents" which is acquired by revisiting the office (inventory>keyitem)).
Now shows when courtesans rank up and gain talent points.
Added erotic performance.
Fixed stage profit calculation. (Fudeyo&Yura were skipping theatrical drums improvement)
Changed energy formulas.
New formulas how profits are calculated all over the board.
If max rank reached while studying, courtesan will rest instead.
Removed establishment maintenance daily cost.
Improvements makeover.
Increased rooms and improvements cost.
Increased materials cost.
Increased potions cost...
Fixed HP regeneration for courtesans when they get sick.
New event(REQ): Fudeyo with a married couple sex scene (req: C rank of all skills or the total sum of 784exp points of skills).
New event: Intro to an erotic dance performance.
New event: Kisayo introduction event remake.
New event: Nekomi intro event.
New event(REQ): Saka lesbian sex with "black widow" (sex scene 4 animations)(req: B rank of all skills or the total sum of 1568exp points of skills).
New event: Kisayo hotspring sex event.
New event: Black widow introduction (req: B rank of all skills or the total sum of 1568exp points of skills).
New event: Master asks Mei how she's doing.
New event: Saka and Yura check on Mei.
New event: Fudeyo talk about courtesans with Mei.
New event: MC and Mei chat in the garden.
New event(REQ): Yura becomes customer "wife". (req: C rank of all skills or the total sum of 784exp points of skills).
New event(REQ): Mei with inexperienced guy. (req: C rank of all skills or total sum of 784exp points of skills).
New event: Kisayo with MC in the garden during night.
Event changed: Added a section of story where mei gets her new room when she becomes a courtesan.
New event: MC trains with Nekomi (requires dojo and day>37).
New event(REQ): Yura with a giant man. (req: B rank of all skills or total sum of 1568exp points of skills).

Small other changes not worth mentioned here.
v0.3.3
Fixed "The old dojo" quest completion.
Fixed "Dojo" upgrade bug causing an empty scene if clicking on upgrade lvl 3.
Fixed frame rate drop during scenes with additional bust (for example intro with creepy smiling assassin).
Fixed "Stage" profits.
Minor changes to shrine buffs.
Fixed transparent Umezou pictures in the dojo.
Fixed AP error in Dojo when training.
Multiple fixes to "skip intro" function.
Fixed icons not showing up when maintenance&cleaniness are low.
Added maid efficiency percentage indicator if below 75%
Fixed Fudeyo's not working event after an encounter with her brother.
Slightly better reputation gain.
Fixed "skip intro".
Fixed UI not showing on mobile devices (android).
v0.3.2
Fixed "images not found" for linux, mac, android
Fixed off-center text in some of the dialogue choices
Other minor fixes not worth mentioning
v0.3.1
Fixed version display on the title screen
Fixed various pictures display bugs during intro's
v0.3.0
New title screen.
Added combat.
Added relationship window.
Added parameters window.
Added skill window.
Character class pick screen at the beginning of the game.
New short unique intros to each class.
Fixed fade-in effect opening various menu's/overview screen/when transferring into new maps.
Fixed girls overview screen open/close scene
Fixed bugged mouse cursor when you leave girls overview.
Fixed City Map icon on the selection (added hover effect).
Reworked variable display in overview map etc. Basically new (better) method to display UI management aspects etc.
Added Action Points
Fixed variable display when skills pass their maximum in the girl's overview screen.
Fixed cursor bug when playing windowed mode and you leave game screen/return with the cursor.
Small changes in the story.
Added party hud.
Added dpad for android.
Added party rearrange
Added mercenary hiring
Added Regional Map (gameplay addition)
Added internal pleasure house traveling between rooms
Added 6 girls rooms
Added Dojo
Fixed auto resting incorrect values when checking when to rest and HP restoration.
Fixed End day UI after the first night with Fudeyo.
Fixed auto resting cancelation upon leaving girls overview screen.
Fixed Mei first time giving no money if she's sold to the customer.
Fixed Mei after the first-time event (busts problems)
Added entertainment low food&drinks indicator
Added various visuals indications (low maintenance, low cleanliness, low food, low drink, etc.)
v0.2.2
Fixed Fudeyo's brother arm cutting event for android (progress bar not filling up).
Fixed Oshi showing up in the training room.
Fixed sex training scenes restarting/bugging.
Fixed black screen on start up.
Minor income balance changes&small fixes+tweaks.
v0.2.1
Fixed black screen issue during animations.
Fixed "Pray for knowledge" bug resulting in insane exp rate.
Fixed "The Red Petal revival" quest failing bug.
Fixed option to call Fudeyo even though she's in "trauma".
Small tweaks&fixes
v0.2.0
Added touch support to sex training heart mini-game
Added touch support to expanded dialogue choices
Fixed map travel arrow keys leading to an empty list
New event: Saka talks with the client (1 sex scene (2 animations/Anal scenes))
New event: Talks about religion, unlocks Sacred shrine.
New map: Sacred shrine
New function: Pray for various buffs
Added sex scene: Donate to the shrine to get sexy with shrine maidens (2sex scenes (4sex animations)). Additional content will be added later.
Added 12 new animations to sex training.
New event: Yura is bored
New event: Fudeyo's asks Saka how she's doing
New event: New sheets
New event: Talk about reputation
New event: Fudeyo's murderous brother
New event: Saka&Yura at the beach
New event: Dream
New event: Yura's group sex
New event: Talk with Fudeyo&Mei asks
New event: Mei trips
New event: Mei scolded
New event: Umezou about finances&Mei start
New event: Everyone finds out about Mei
New event: Mei virginity check (1sex animation)
New event: Choice [take Mei virginity yourself || sell her virginity to the client] (2 animations)
Mei prostitution & training unlocked!
New event: Mei&Yura interaction
Small income balance
Features
:
3DCG interactive world - Manage your business and interact with your surroundings and other characters.
In-depth management simulator - Train your girls, upgrade your brothel, hire staff, keep track of your and courtesans health & energy level.
Progress through the story - Follow the lives of four beautiful courtesans and enjoy the story as it unfolds.
Side activities - Unlock new events by upgrading your building or interacting with various characters all over the world.
Animated busts & scenes - All the scenes are semi-animated to imbue life into the characters instead of showing only static images.
Fully uncensored & animated sex scenes - Lots of beautifully animated sex scenes.
The game crafted with passion & love!
How to use old saves
:
For the macOS version to work (and save), try placing the game into the application folder.
If the game doesn't save and you play in windows, run the game with administrator permission.
DOWNLOAD
Win -
MEGA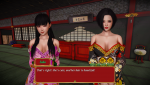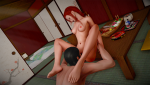 ​
Last edited by a moderator: