​
Developer: Lupiesoft
Patreon - Website - Itch.io - Twitter -
Discord
Version: Chapter 1
Release Date: 2019-12-05
Last Updated: 2019-12-08
Censored: No (No sexual content)
OS: Windows, Linux
Store:
Steam
- Mangagamer
Language: English
Genre:
2DCG, Female protagonist, Futa, Fantasy, Romance, No sexual content
Overview:​
Dizzy Hearts is a mature visual novel with equal parts romance, comedy and drama. It's a coming of age story about royalty and social status that deals with themes of duty and gender roles.
In a world split between eternal day and eternal night, the naïve but energetic Seriva sets out on a rite of passage as part of the tradition of her people, the subterranean Assard. She ventures to the land of eternal night, where she discovers the city of Lungarde.
In the kingdom of elves, she learns that travelers are not that rare in this region, yet Seriva is ignorant to Lungarde's culture, to the cycle of royal lineage and the rare and mysterious 'fiore'—the hermaphroditic sire to the elven people. Rumor has it that Queen Llend has chosen her successor among the four fiore princesses and is soon to abdicate, and it turns out Seriva may have just stumbled right into the middle of everything!
Changelog:
DOWNLOAD
Win/Lin -
MEGA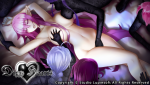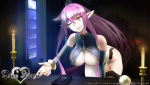 ​