Developer
: Fenoxo
Website
- Patreon
Version
: 0.8.095
Release
Date: 2020-06-16
Last Updated
: 2020-06-18
Censored
: No
OS
: Windows, Mac, Android 8.1, Air
Language
: English
System requirements (min):
CPU: Pentium 4 1.7GHz; RAM: 512MB; VRAM: 256MB; HDD: 32 MB
Genre
:
2DCG, Text based, Adventure, Sci-fi, Character creation, Male protagonist, Female protagonist, Futa/trans protagonist, Furry, Futa/trans, Gay, Lesbian, Mobile game, Monster, Monster girl, Rape, Tentacles, Transformation, Trap, Combat, Turn based combat, Anal sex, Oral sex, Vaginal sex, Big tits, Big ass, Pregnancy, Sandbox
Overview:​
You grew up in the small village of Ingnam, a remote village with rich traditions, buried deep in the wilds. Every year for as long as you can remember, your village has chosen a champion to send to the cursed Demon Realm. Legend has it that in years Ingnam has failed to produce a champion, chaos has reigned over the countryside. Children disappear, crops wilt, and disease spreads like wildfire. This year, you have been selected to be the champion.
Trials in Tainted Space is a text game about exploring the universe, yourself, and its myriad inhabitants in fun and customizable ways. Because the entire game is made in text, it's easy to change scenes on the fly. The game is built to accommodate everything from you playing a studly ship captain to a busty space-slattern to a masculine-looking hermaphrodite to a hard-working mercenary just looking for his next job.
Changelog:
v0.8.095
The gabilani chemist's scene for reacting to "thirsty" PC's now has the "call zaika" fork enabled. This presents three randomized blowjob scenes out of the total available (which is only three for right now…). I have ideas for at least 1-2 more "generic" ones and a few where I'm going to have some of my futa crew members make a cameo (Shekka/Kiro).
Feeding thirst should now immediately result in it being removed (instead of occurring on the next "processTime" event after acquiring "Orally-Filled").
Fixed the milk bar status tooltips.
New parsers: lipNoun, lipNouns, lipNounChaste, lipNounsChaste.
Lots of typos fixed and tweaked.
The combat tail's tooltip should now warn that equipping it will remove current tails.
The combat tail can no longer strike flying targets.
v0.8.094
New Gabilani Chemist scene by yours truly. Clocks in over 2,000 words for those who have been awarded her "Cum Thirsty" perk and are presently afflicted by the "Thirsty" status.
New combat cybernetics available at the Implantation Station on Dhaal: Combat Tail & Ballistic Breast Liners. The tail functions as a drone while the liners provide a source of defense (and slight breast enlargement).
The systems for equipping and unequipping implants have been tweaked for consistency across systems and individual implants. Apologies if this introduces new bugs in the short term!
New bust: Gabilani Chemist!
New image embed for the artpack: the Gabilani Chemist's priapism scene now has an appropriate image.
Several small bug fixes a well!
v0.8.093
New Zaika Hydra victory scene (in the GravCuffs) scene, written by William, coded by me.
Brandy's busts should be compatible with the zoom-in function of future image packs.
Fixed a few small bugs and typos.
Some rooms have been blocked out on Dhaal for an area I'm calling "Gabtown" at the moment. In the future, the gabilani enemies and NPCs will mostly be encountered there.
v0.8.092
Fixed event log spam from the cum thirsty perk. It still needs tweaks to clear the status immediately upon fluid drinking instead of the next time the clock advances after.
Added a 10% drop chance chemist's coat accessory that I had coded on my laptop this afternoon and didn't test at all. I'm sure it's fine…
v0.8.091
The "Cum Thirsty" perk has been enabled.
A few broken parser calls and typos should be fixed.
v0.8.090
A new enemy has been added to Dhaal! The Gabilani Chemist prowls the mean streets looking for subject to test her experimental mutagens on. Her combat scenario and victory texts aren't done, but I loved her variety of body-modifying loss scenes so much that I couldn't keep them to myself any longer:

Booze-oombas – Get temporary alcoholic breastmilk… with a twist.
LHD – Lesbian Hallucination Drug. Need I add more?
Exgartuan – A scene featuring temporary hyper engorgement that ends with some minor growth.
Fun With Priapism – Get a stiffy that just won't quit and get milked into a condom for "testing".
The Big Suck – After submitting enough times in a row, get treated with an enhanced version of snakebyte that'll give you a cum-thirsty new perk (note: perk not yet active in code)

One of Ardia's pre-crew scenes is now available when she's on the crew. (Thanks Gena138!)
Ardia got some bug fixes courtesy of Gena138 as well.
The Cylirian codex (Maike's race) is now active in game, courtesy of Gena138 as well.
v0.8.084
Maximum font size is increased from 26 to 32.
Verusha has a new oral scene where you stay in the bar, written by Freed and coded by Gena138. Note that you have to done all her talk scenes and gotten her to like you.
Anno has a new way to flatten your face in the morning, if she's a huskar and you've done that sort of thing before… (Written by William, coded by Gena138)
A new Kase scene event was added where he needs your help! Written by William and coded by Gena138.
New enemy on Dhaal: Gabilani Cyborg, by Doots. Coded by Gena138.
The milk thief on Dhaal now has a few more attacks and should respect the "Disarmed" status.
Fixed an infinite cash exploit related to buying from shops in very high quantities.
The Zaika Hydra should no longer knock you up with bunnies.
You can now purchase name changes from Flahne. The price rises with in game days passed.
Lion-Os now remove reptilian genital slits.
Numerous other fixes and tweaks.
0.8.083
:
New loss scene for the zaika hydra for players with very large endowments (36″+), written & coded by yours truly.
New loss scene for the zaika hydra for players with feminine tail genitalia, written & coded by yours truly.
New busts for the zaika hydra by Adjatha! She's a cutie, ain't she?
New extranet date: Starchild! Written by The Biologist and coded by Gena138.
New rare drop on Dhaal – "Zil Nigh the Science Bi 2" video, written by Gardeford. Coded by Gena138 as well.
Mirrin DP now only checks for proper capacity, not gape. Doesn't make any sense with a leithan buttslut with elasticity mods couldn't do it.
Libido and taint stat minimums bumped back to 0… though I think I'm going to put libido back at 1 the more time I spend thinking about this.
Kaede now properly checks penis sizes for insertion during her dates.
Fixed a bold bleed in Bianca's stealth sex.
Assorted typos fixed.
0.8.074:
Corrected a new bug that was introduced that basically broke all Jumper preg. Sorry!
0.8.073:
Fixed some bold bleeding in the Easter Jumper.
Fixed some bold bleeding in Azra's fuckable plants if you were under 33 lust.
Added resolve stats to the following pieces of equipment: Khan's Lab Coat, Thermal Underwear, Chit Plate, and Pumpking Armor.
Another small fix/adjustment for Easter Jumper preg.
Fixed ReductPro's menu glitching out if you tried to use it on purchase with a full inventory.
Fixed an issue with Bianca's oral where PC's with single dicks would be forced into the vagina variant for a bit.
Mitzi & Bizzy's scene selection menu now has a back button.
Edan unlocks the Leithan Codex if you haven't already when you meet him.
Horn bumps no longer count as all types of horns.
Lucifer should now be able to grow demon horns if you have horn bumps.
The Next Page / Previous Page buttons for the display window AND menu now have hotkeys displayed on their tooltips.
Fixed some Lund issues.
Fixed another wonky Kiro trust issue. Will these ever die?
Fixed some lingering references to the old tease skill values.
If you hit the tease damage cap against an enemy, the next tease attack should cause full damage no matter what part you use (but only the next). (I need to update this to display a proper notification and status effect.)
0.8.072:
Fix an Easter Jumper displaying a paragraph for double-dicked PC's whether they were or not.
Tweaked the values for the Kiro/Kally meetup for more consistency with Kiro's reaction.
The Amber/Anno event should correctly show Huskar Anno if she is a huskar.
Dicksprout should correctly set new penis values when growing one.
Fixed a missing egg name during egg collection for an Easter event.
Fixed an incorrect error message in ReductPro if your ballSize is locked.
Fixed Eitan typos and calling him a her once.
The Easter Zaika no longer calls everyone a laquine.
Dildos can now be used rectally from inventory for vaginaless PCs.
Fixed a bold bleed in the Easter Zaika.
Fixed an impossible variant in the Milk Thief's opening lines.
Fixed a bugged parser in the Easter Zaika.
Fixed a crash/lock where an incorrect vagina index would crater the Easter Jumper's scenes if you were fully pregnant.
Fixed some bugs in Lund's combat.
Fixed a crash in slut Kiro's crew orgy scene.
Fixed & corrected the Easter Jumper's pregnancy type so that it shouldn't conflict with the other Jumpers.
The Milodan Bruiser bust should now display properly.
Advanced Shielding got a slight nerf. (ShieldDef + Int/4 -> ShieldDef + Int/5)
*The Android version only works with 8.1 compatible devices

DOWNLOAD



SWF - MEGA
AIR - MEGA
APK x86 - MEGA
ARM APK - MEGA
Image Pack SWF - MEGA

WIKI - Save Editor - Bestiary PDF Mega - BOBS MOD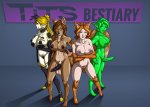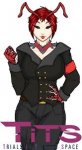 ​
Last edited by a moderator: