Developer: Pink Tea Games Patreon
Thread Updated
: 2021-01-25
Release Date
: 2021-01-14
Censored
: No
Version
: 0.1.9
OS
: Windows, Mac, Linux, Android
Language
: English
Genre
:
2DCG, male protagonist, male domination, spanking, trainer, handjob, bdsm, slave, oral sex, Animated
Overview:
You find a girl who wants to kill herself. You treat her by "breaking" her.​
Installation
:
Changelog
:
0.1.9
- Added cat outfit(Work) rank 4
- Added school outfit(Work) rank 3
- Added Quest 4
- Added Credits page

0.18 Changelog
- Added hot wax punishment (from rank 5+ - you must cheat from main menu to unlock)
- Added steak to eat at table (from rank 3)
-Added Doggy sex to bedroom sex scene (at end of BJ part, select from the options - rank 4+)
- Added rank 5 dialogues for scenes

v0.1.7
- Added shop(Work) - rank 3+
- Added bath HJ - rank 3+
- Added Headpat (reward) - rank 4+
- Adjusted Arousal stat a little so it's easier to increase

v0.1.5
- Fixed quests for memories; your choices lead to the correct scene, but are not saved.
- Added study (Work) - rank 3+
- Added Feet (Punishment) - rank 3+

- Added parfait option to Eat At Table scene

- Added heart eyes when arousal exceeds 90 (Evening after work scene)

v.0.1.3
- Added arousal stat
- BJ added to TV scene (must reach at least 80 arousal to access)
- Added Bath scene

v.0.1.2
- Added Quest 2 (Park)

v0.1.1
- Added work: Cooking
- Added Quest 0 (mug break)
-Added camera toggle on settings menu
- Added Start Screen background
- Added memory button
- Added outfit: Gothic
- Fixed bug where Setting Menu did save music volume change

v0.1
First Release
Developer Notes
:
So after about a month and a half of work, this is what I've managed to cobble together.
I really hope you're not too over-hyped about it because this game STARTS OFF SLOW, and does not actually contain any sex YET.
Instead of going straight to the bedroom/dungeon with her, I wanted to build things up so that when we do get there, it's more meaningful.
So, what we have so far is an intro and a few ecchi-ish interactions. I feel like I've laid down the foundations of what's to come.
As with previous projects I will try to keep updating this once per month, with a few extra scenes added each time.
I hope you like it so far!
I'm always grateful for any feedback you guys can give me - don't hold back on the criticisms either - I'm fine with both positive and negative comments. Just be honest.
Again, just to reiterate, don't expect any hardcore stuff yet!

Thank you all, and may the Dark Lord bless your perverted souls.

Read the Developer Notes before downloading it.
DOWNLOAD
Win: ANONFILE - WORKUPLOAD - ZIPPYSHARE
Linux: ANONFILE - WORKUPLOAD - ZIPPYSHARE
Mac: ZIPPYSHARE
Android:
ZIPPYSHARE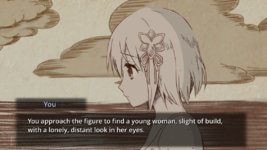 ​