Tech Devil
Administrators
​
Developer:
ZnelArts
Patreon
-
VRPorn
Version:
Beta 19b
Release Date:
2020-08-20
Last Updated:
2020-08-25
Censored:
No
OS:
Windows, Oculus, Oculus Touch, HTC Vive, Mac
Language:
English
Genre:
3D game, 3DCG, Animated, Graphic violence, Sci-fi, Male protagonist, Adventure, Fantasy, BDSM, Parody, Simulator, Sexual harassment, Virtual reality, Catgirls, Villain, Superpowers, Reverse Rape, Female Domination, Whip, Tailjob, Suction on Penis, Bodyjob, Silhouettes, Shoejob, Hairjob, Kneepit Sex, Anal Sex, Intercural Sex, Footjob, Vaginal sex, Titfuck, Oral sex, Bukkake, Handjob

Overview:​
Did you ever watched that old Batman show where him and Robin were always about to die in a trap, and then in the next episode they managed to escape from an horrendous dead? Well... No More!! I always fantasized with the idea of the Villain actually winning, this is about that with the sexual element added to it.
Changelog:
Beta v19
- Character Customization with Custom Textures
- Vibrator Tool
- Slapping and Punching with Bruises on Skin
- 3 Contraption devices to chose
- Remote grab of VR items
Beta v18
Character Creator Early Access
Now from the
Main Menu
you can access the
Character Creator
Screen, in here you can use the button on the left to customize the shape of your character and then
save it
on one of the 5 slots available. Once you save it you will be able to
load it
in the game using the Character Selection Console.
Why is the character red? How do I change the skin?
I have not yet added textures to the new model I'm using for this feature, this will be ready soon and available for beta 19 with the ability to
import your own textures
! (hey modders)
Devious Device
The
new machine
is available now, this one sets up the scenario for a new mechanic,
Slapping
.
Slap and Punch
On this build
slapping is only available for VR
as Im in the works of porting this to Desktop Mode. The game will detect if you have your hand open or closed and apply the right effect when interacting, additionally I have added a
decal system
allowing the interaction to paint details on the characters, like
slap hand prints
. I will gradually leverage this system to add details when interacting with the other items.
Anything else?
Yeah, as usual I read your feedback and I have been fixing some bugs, improving the interactions and overall keeping the game up to date with technology. Here is a list of additional major things that changed:
Better red eyes for Tifany
Fixing issue where Tifany and Catgirl clothes arent dissolved after dissolving the main body
Adding Scene Loading Screens
Dematerializer, Dart Gun, Pong Ball gun now use Steam VR Hand pose system
Tifany pectorals now react to physics
Fixing Breath Tween not working after milk cup was deattached once
Improving Milking cup mesh and materials
Reconfigure nipple sockets on all characters
Deleting around 1GB of unused assets making the build smaller
Adding better pubic Hair to Tifany and configuring Bend Influencers
Beta 16.1

This update has a fix for the cheat console

Fixed a bunch of bugs and did a little bit of performance improvements

If you want pass to archiv - password: zbeta777



BETA 16


This build introduces the new character Tifany
Tifany is a parody of the Sfi-Fi RPG Videogame genre.
All individual cloth pieces can be dematerialized.
She is ready to be mounted on the 2 machines available in the game and all usual interaction should be available.
Please let me know if you experience any issues with her.

Beta 13.1

New Catgirl Character
Laser point Aim for dematerializer
Height Adjustment for contraption devices
Weapons Re-Skin
Adding arousal influence to some other actions
Bug Fixes

Beta 12

VR Hands with physics and animations
Improved Game Restart
Left Control Touchpad/Joystick now does snap turns
Improved teleport effect
New console with animated interface to select what tools to bring up
Bring up the pump machine on demand to save performance when not needed
Added physic sounds to many object to add realism when colliding
Improved scene lighting and removed ugly shadow banding
Improved post effects to make game look more stylized
Added basic dematerializing materials to automata model
Added audio reverb effect to enhance immersion
Updated to Unity 2017
Fixed a bunch of bugs and did a little bit of performance improvements

Beta 11

For this build I have been working mostly adding some character status effectors and physiological logic, different actions and future actions will have a physiological effect on the character, even indirect actions will have influence.

Here is how this logic works:
Grabbing a weapon will increase fear
Shooting the character point blank will scare the characters
Inflicting damage to the character will increase fear and reduce arousal
Causing any fear will reduce arousal
You cannot increase arousal if the character is scared
There is a base value for each status, the status level will gradually move towards this base
Some actions can mutate this status base.

Realistic Breathing
A realistic breathing system has been implemented. Breath will get more intense as the character is more scared, then it will slowly normalize. Since breathing is a full body motion additional animations had to be added for mouth, chest, head and shoulders.

Adding Toy gun for future gameplay
Gun will shot darts
Darts will stick to hitting surfaces if they are hit with a good angle
Darts will fall after some time and disappear
This gun will be used for future gameplay in which the player will need to shot certain targets.

Added splash screens to enhance presentation
Added Pause Menu
Fixed bug in which mouth would stay open after electrocution
Fixed bug in which character will still look around after death
Optimized city landscape to increase performance
Enhancing textures on cat girl hair
Changing textures of materializer guns
Adding logic to avoid voice and breath audio overlapping
Few other minor bug fixes

Coming Next

Character voices
I will be working mostly on the character's personality. I have requested more voice over for the characters, take a look at some of those clips
Im still not 100% happy with this clips but I will be implementing the system for the characters to speak, then when I find the right voice actor I can just swap the audio files.

New capture device
I will start importing the new capture device that I have been working on the side, I hope this new device will bring some fun gameability. Player will be able to switch devices using the consoles.

Feline character
I hope I can make more progress on this character and bring it to a playable state.

Beta 9
Adding ignore layers to play area and teleport (fixes bug of heigh changing when close to the hero)
Making status console update values on game start
Making rubber bullet reduce arousal and fear
On Dematerializing hero inflicting 1000 damage to kill the human
Adding servo short sound to status console
Configuring dynamic bone colliders missing in right hand
Allowing Status Console to be toggled in VR trough the VR Pointer
On Character Dead, disabling IK and ragdoll to dead status
On character dead stopping breathing and expressions
Basic check for dead logic implementation
Setting up logic so that the hero can be physically attached to the machine
Changing quality settings to avoid clipping on low qualities
Combining main machine mesh and materials to improve performance
Adjusting Main Menu Scene lights and Post Processing effect
Making the status interface to appear and disappear when is toggled
Adding status console icon to the tool console interface button
Adding animation and activation logic for the status console arm
Basic trigger points to toggle the status console arm when pressing it
Baking Lightning and adjusting lights, materials, reflection probes
Making the interactable toys add arousal damage on Desktop Mode
Making Tazer start Electrocute on collision checking if a hero is alr… …
Refactoring Tazer character collition detection Part1
Status controller console now uses the UI Indicators controllers to s… …
Creating Holo Interface elements for character status
Creating prefab for status console and adding a base holo interface
Making Tazer inflict damage over time as it is effecting the character
Adding basic status cancas to scene. …
Making Dematerializer explode if no ammo is left
Adding Event and sound to Dematerializer activation fail
Adding animation to no ammo warning sprite in dematerializer
Adding auxiliar image to ammo canvas to show when there is no more am… …
Implementing holographic counter effect for weapons with animations in… …
Adding sound and holo effect when grabbing the weapons
Making weapon ammo counter appear and disappear on Grab
Adding holographic display to materializer and pong weapons
Creating the bases to implement the demo mode
DOWNLOAD
Win -
LetsUpload
AnonFiles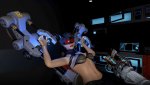 ​
Last edited: