​
Developer:
Nergal
Patreon
-
Website
-
Trello (Art)
-
Trello (Code)
Version:
0.8
Release Date:
2020-08-27
Last Updated:
2020-08-28
Censored:
No
OS:
Windows
Language:
English
Genre:
2DCG, Animated, Male protagonist, Big ass, Big tits, Titfuck, Adventure, Monster girl, Point & click, PoV, Romance, Sci-fi

Planned: Height difference, Anal sex, Cheating, Group sex, Oral sex
Overview:​
Explore the galaxy with your all female crew to support you! Having recently inherited a ship from your estranged father, you set out on a journey to discover new worlds with a new family. However your past begins to catch up to you and you begin to find out things about your father than you and even the crew he spent years with, never knew. Each crew member has their own in depth and rich personality and back story. Pick your favourite to form an intimate relationship with, or maybe... multiple. There are many choices to make and not all of them leading to happy outcomes, but it's up to you, the player. In control of your own destiny as you begin to discover, what is the Solarion Project?
Changelog:
v0.8
- Mia's First Level Progression
- Update the text message and phone image code to be more in line with the architecture rework
- All crew are progressed to state level 1 (of Progression 1) in preparation for the shower scenes coming in 0.10!
- Minor bug fixes
I hope you enjoy the build, Mia was quite fun to write and a bit of a contrast to the other characters too. Let me know what you think!
- Nergal
v0.7.2.7
- Added Shelly's first progression
- Shuma is now a full fledged member of the crew with Name sign above her room and a sleeping scene!
- All crew members now have dialogue after their first scene (some were missing follow up dialogue)
- Fixed numerous bugs around Shuma not appearing in the crew in certain conditions
- Updated the checklist code to be more future proof and in line with how other systems work
v0.6:
- Shuma's Level 1 Progression has been added!
- There is now a galaxy map, press M while in space travel to bring it up. It's a bit basic and rough at the moment, but I'm hoping to spice it up a bit visually in the future!
- This allows fast travel to other systems
- Multiple objectives now appear simultaneously. Each objective has a colour based on the character it involves (or other type) and you can stop tracking them as well. They also appear on the galaxy map so you can see where you need to fast travel to
- Shuma now gives 5,000 credits when you save her (making it easier to hop over to do Lillith's poker quest in the next system along)
- More save slots are available now and screenshots are taken when you make a save. Again it looks a little basic at the moment and will be made to look nicer in the future.
v0.5.2.7z
- Malaena Progression
- Saves are now nameable (for multi playthrough / character specific saves)
- Temporarily doubled the speed of the ship while the battle system is in development
- Can now get fuel without having to land on a planet
- Can now get to any planet you are docked at by leaving via the door in Engineering (no need to go into the galaxy map first)
- When docking on the ship you are now given the option to go onto the ship or straight into the galaxy map
- Behind the scenes - began a massive data restructure for many elements of the game, 0.6 systems will use these new data structures and hopefully should result in further decreased loading times for those experiencing high load times
v0.5 Demo
- Malaena's Level 1 Progression
- Saves are now nameable (for multi playthrough / character specific saves)
- Temporarily doubled the speed of the ship while the battle system is in development
- Can now get fuel without having to land on a planet
- Can now get to any planet you are docked at by leaving via the door in Engineering (no need to go into the galaxy map first)
- When docking on the ship you are now given the option to go onto the ship or straight into the galaxy map
- Behind the scenes - began a massive data restructure for many elements of the game, 0.6 systems will use these new data structures and hopefully should result in further decreased loading times for those experiencing high load times
v0.4 Demo
- Catherine's Level 1 Progression
- Bug Fixes
v0.3 Demo
- Kittenna's Level 1 Progression
- Press (hold) shift to quick skip
- Pressing enter advances through dialogue like a mouse click
- Lillith's advances can now be rejected (this becomes important for later when other character's progressions start advancing)
- The Location selection menu now shows a little white arrow when it's available (this will be changed to some sort of noticeable animation in the future)
- Some quality of life changes around the phone menu
v0.2 Demo
- Lillith's first level progression is complete!
- Remember to check the Check List Menu (which has multiple checklists now) to see what you can do
- Also check the objective menu / look at the blue circle in the star map to see where you need to go
- Mia has been added to the lab so you can get her dialogues now
- A phone menu has been added (tab), where you can track progression levels, see stats, messages and images (more will be added in the future)
- The TV now displays a menu with a list of memories (sex scenes) which you can replay
- You can get all interactables in an area to flash by pressing space bar
- Music change for Red Queen's sex scene
- Completely rewrote the code that displays the location selection menu in the hopes of improving the location change lag issue (it doesn't look like it has so investigation will continue.)
v0.1 Demo
Art/Scenes:
Red Queen Ride Animation Added
Crew member sleeping images added (No Princess yet)
Sexy image when gathering each crew member (None for Malaena or Princess)
Sexy image of assembled crew (Not including Princess)
Developer Notes
:
This game is in very early stages of development. A combat system is being developed for space engagement (turn based) as well as an on ground combat system (also turned based.)
Controls/Hints
- Escape to access pause menu
- Tab to access phone menu
- Some places have movement locations, move mouse to top of screen to see
- Recommend reading dialogue
- Play on low settings if experiencing lag (won't affect images, but will affect space travel segment.)
DOWNLOAD
Win -
MEGA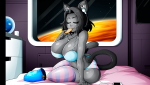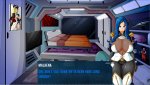 ​
Last edited by a moderator: