​
Developer:
jammye.jones
TFGameSite
- Patreon
Version:
0.5.13
Release Date:
2020-08-18
Last Updated:
2020-09-18
Censored:
No
OS:
Windows, Linux, Mac
Language:
English
Genre:
2DCG, Text based, Male protagonist, Animated, Masturbation, Female domination, Corruption, Transformation, Sissification, Futa/trans, Trap, Anal sex, Oral sex, Vaginal sex, Gay, Group sex
Overview:​
You will start with a male character living with his sister, during a special night you met an older woman which becomes your girlfriend. You also have a friend (which you can choose the gender) who is the only person that you really trust. As the story goes on, each of those characters will play a part in your transformation.
Changelog:
v0.5.13
Stepsister's story:
- Four more weeks of fun with the sister/stepsister with different paths to follow. The blackmailer continues to threaten her, and you have her fate in your hands. (135 new pages).
- Each week will have two different paths to pick. You may found items that can be useful to save your sister/stepsister.
- Your choices will choose her destiny.
- Week one: End a marriage or Pay a debt.
- Week two: Ruin a birthday or gift a present.
- Week three: Trouble at the Clinic or at the Motel
- Week four: Choose her fate.
0.5.12
Stepsister's story:
- Added 88 new images.
- Fixed: Black screen if you miss chat with GF during training week.
- Item: Nurse outfit when you complete an event.

Wild Snu Snu different payment:
- Added: 05 images for the gloryhole 01 for the punishment.
- Changed: Punishment: Time 16h00 to 14h00.
- Changed: Punishment: Blowjob skill 5 to 4
- Changed: Punishment: Group skill 0 to 2
- Added: Reminder on Friday if you didn't do it.
- Added: BJ during the week will increase skill by 1.

Bugs:
- Fixed: Job UI for Hairstylist, Housekeeper, Personal Trainer and Nurse.
- Fixed: Last payment while working as Nurse.
- Fixed: Closet bug related to Graduation Dress.
v0.5.11
- New mistress: Mrs. Layla at Sissy School. If you have good grades you'll be able to choose between GF, Mrs. Layla, or go free. (more options will be available in future updates).
- Train to become a whore and have Mrs. Layla as your Pimp.
- A new client every day while you're training: random events, each time something new in a different place.
- Events on the weekends: If you have lower skills, your training will last longer than it would for someone skilled.
- New Path: Get back to your former mistress (cuckmode only).
- New cheat: sleep early - Useful to speed the week, but you may lose A LOT of events if you go crazy on it.

Fixed:
- Grammar and suggestions.
- DB: Masturbate in public: also works if you don't have a dick or locked.
- 0.5.11b: Fixed a small problem related to porn menu.
v0.5.10
- 112 new images: Murphy: All clients.
- New DB Task BDSM (request): Dog_Lover123 wants to take you for a walk again.
- New item (request): Bunny Suit can be found at Wild Snu Snu in Leather section.

Fixed
- Dom Online: Changed names to tasks.
- Sissy school: Option will be available even if you're playing with cuckmode on.
- Pharmacy: Available right from the begin making it possible to buy a mobile in early game, prices have raised.
v0.5.9
- Dealer: After you turn her to the cops a strange message will appear and new situations will be available. Note: Her tasks will ask for certain skills that you won't have during the early game. You should wait until your character is more developed to try her quests.
- 130 new passages were added.
- 8 tasks to increase your reputation with her or help you to pay your debt.
- 7 situations if you choose not to pay her.
- Her store will be fully available on Mondays if you reach enough respect.

Fixed:
- Cheat for reseting DB days wasn't showing when cheating was enable.
v0.5.7
- After a successful (or dreadful) wedding party, you're going with your husband/wife to your honeymoon. Is it going to be wonderful or terrible? Your choice.
- 133 new passages with different choices.
- Honeymoon with BF male or female (different options for each).
- Are you a cheating bastard or a comprehensive partner?
- Definitive ending for BF story or pick a different line to continue your own story.
v0.5.6
- 116 new images
- 62 for Dominance Online while playing as dominatrix.
- 54 for GF story while picking her date.

Fixed:
- Small errors related to CSS and HTML code.
- Course won't show twice on the first day.
- Smoking in the Bathroom. Chances changed from 25% to 50% of meeting the Janitor.
0.5.4
New:
- 113 new images for Dominance Online while playing as a slave. Images for both Master and Mistress are now available.
- UI for the GF story while picking her date was fixed.

Fixed:
- A bug related to a dare board reward.
- Small issue with the UI related to a passage for Dominance Online.
0.53
This version continues the GF story almost reaching its ending. While this path is about to end, it may have more content in the future, giving new possibilities to the story. Next update I'll be finishing the last update related to UI and more images, this time for the Dominance Online while looking for a master/mistress. Once again, thank you for your support.
0.5.0
Rework:
- My closet: Reorganized and easier to set each set.
- Stores: The entire mall changed. UI too.
- Cloth n' Clothes: socks, gym, sneakers, shoes, underwear, clothes.
- Hey Pretty Lady: Same as above.
- Wild Snu Snu: Lingerie, sex toys, and leather clothes.
- Sneeze n Cold: Contact Lens, Nail Polish, Hair Dye, Shaving products, Electronics. NOTE: Mobile is now available at the Pharmacy, if you want early access to the Dare Board, you can choose to start with mobile.
- Dye Another Day Salon: Hair, Makeup, Shaving, Wax and Nails.
- Hair: One hairstyle replaced, two new added.
- Clothes: A lot of changes related to visuals. Names changed making it easier to find it in your closet.
- UI: Money, Date and Time are now available all the time at the sidebar.
0.4.15
Date with BF
- Skills and text changed in a few parts.
- Images for every scene.
- New look for male and female friend
- New event at the local course's bathroom if you complete the date with the Janitor.
- New event at the gym's male bathroom if you complete the date with your favorite bully.
- 118 new images.
- Rework for the witch and bunny costume.
0.4.14
Dreams updated:
- 56 new images.
- 56 erotic dreams edited and changed.
- Change: Sleeping while mindless horny will lower your mind by 1, but you can try to regain it during the dream or choose to improve something else.
- The morning screen updated.

Kissing contest updated:
- 17 new images.
- Evil/Good status updated. You won't get punished (greatly) for joining this contest anymore.

Creating sissy videos:
- UI updated. Gifs added.

Weekends during GF's training.
- If you skip her early training, you'll get a random event on Sunday.
- Rework: New UI, new rewards and new events.
- 9 new images.
0.4.13
Main Content
- GF story continues along with her partner with two possible early endings based on your choices. 5 weeks of content (gameplay) with different options to go with.
- A few familiar characters return to help you with your transformation or resistance. You should talk to them if you want to avoid an early ending.

Fixed:
- Sissy requirement removed from Dildobaggins DB task.
- Stats can be decreased to sissy, except if you turn into a female.
- Cheat can be enabled anytime in the game.
- Doctor won't be removed from the GF story after a certain event anymore.
DOWNLOAD
All -
MEGA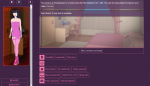 ​
Last edited by a moderator: