Tech Devil
Administrators
​
Developer:
Sicco
Patreon
-
TFGamesite
-
tfrunner.com
Version:
0.32.0.0
Release Date:
2020-04-23
Last Updated:
2020-04-24
Censored:
No
OS:
Windows
Language:
English
System requirements (min):
Needs Direct X 9 to play
Genre:
2DCG, Female Protagonist, BDSM, Futa/Trans, Breast enlargement, Male to Female, Corruption, Fantasy, Lesbian, RPG, Spanking, Transformation, Vampires, Shemale.
Overview:​
Has three screenplay: 1. Lesbian vampire lover (female to vampire) - The transformation of a young chaste girl into an obscene lesbian vampire. 2. Amazon desire ( male to female ) - The transformation of the knight who was tasked to conquer the forest amazons, into a woman. 3. Revenge Circe ( male to pig ) - The transformation of the ship's captain and his crew in the pigs.
Changelog:
0.32
New Game User Interface.
New quest, transformation to a sex toy, sex doll
After completing quest, special fetish sex with witch Isabelle
New illustrations, winning of dungeons, with sketches
0.31
Prisoner Colony 41
Hero is moved to the prison cell with another prisoner
Showering, infirmary and teraformation work make new day cycle in the prison environment
Diary – look to the mirror and tracking the transition
Achieved victories illustrated
New illustration – cellmate Pencil
The Desire of the Amazons
New quest, an Amazon wants to get pregnant with a man. Find a live man.
Edited dungeon, when the player can refuse to serve Cassandra
Programming technic – use of specular mapping – hair shine on 3D avatar
0.30.02
N/a
v0.28
Ability to play with a different skin color and change it with potions. Caucasian, African American, Asian, Hispanic.
A new potion that resets the penis. Cancels the effects of thick penis, giant/small knob, etc.
New optional quests. Some give magical items. Teleportation headband to enemy in melee combat; gloves that allow you to shoot more arrows.
A more detailed description of Xenia becoming a shemale and growing of her penis.
Sex with a tavern owner in Amazon village. She loves rich pubic hair.
Adjust pubic hair shaving in 3D
v0.23
The story of the Circe's Revenge can be won and the island can be left after 30 days as a human
Amazons are beginning in the town before the attack
Stronger enemy units have abilities, spiders throw the webs, wasps have poison, wolves bite
Another little tasks in the Amazon village, in the tavern, market, hunting, etc.
Tasks can be seen in the list
More illustrations
v0.22
Unknown
v0.21
Unknown
v0.20
The Desire of the Amazons
New dungeon: Runaway from Cassandra
More XXX stories, which can be seen through the keyhole
Mea & Vea lesbian XXX story: Fingering and Pissing behind the house
If the player is experienced with making potions, it is possible to deal with magical ingredients with Isabelle
New illustrations: Cassandra in the bath, Xenia in thermal cave
More faces for Amazons with emotions
Circe's Revenge
(transition up to 100 %)
The hero has hooves both on the arms and legs
The hero doesn't have a name, Circe calls him just a pig
Final argue between Circe and Lamia
The hero permanently lives in the shed
New illustrations (15% transformation – hero creampies Circe, 65% transformation – anal sex with Circe)
v0.17
Circe's revenge (transition up to 75 %)
The hero stops collecting food for the pigs, but finds truffles for Circe.
The hero runs out of bullets. He uses a sword or attack while.
If the player doesn't fulfil Circe's wishes, doesn't bring any gifts or fails in sex, he loses and game is over.
More texts. Teaching Lamia the sex. Optional gay story in the shed.
Player loses his top, he's almost naked, only underwear has left.
The Desire of the Amazons (transition up to 40 %)
New dungeon of saving Dandelion from a bear.
More texts with Xenia in new engine
v0.16
Story of Circe (transition to 65 %)
Circe wants anal sex, the player will satisfy her, but then hooves and a tail will appear.
Nymph Lamia wants the player to teach her sex. That strange behavior of people.
The player loses clothes and forgets to use the latrine. He defecates in the bushes or under himself
(Optional story) After the transition to 60 % can the player have gay sex with other pigs
Amazon in the new engine (up to 30 % of the transition)
The player has dreams
The player can watch Cassandra at night through the key hole
When the player saves Dandelion, he takes care of her for few days
Access to the Amazon village
v0.15
The whole game:
Improved random maps generating
Improved bypassing obstacles
Circe's Revenge:
Transition to pig up to 56 %
New XXX story, Circe shaves player's head
Optional gay XXX story
The Desire of the Amazons (new game engine):
Transition to woman up to 20 %
Everyday routine cleanup, dungeon, rating, punishment, …)
v0.14.0.11
v0.14
Graphics settings. Slower PC's might need to turn off grass rendering, reflections and some other functions. I'm sorry but I've found that Windows 10 deliberately slows games based on older DirectX9. Turning off some of the effects is the only way to make playing more comfortable. I will go for newer DirectX but it will last a few months.
New painted 2D avatar male to pig.
The revenge of Kirke, transformation male to pig, can be played to 55%. The hero is getting fat, a pig snout is growing and ears too. But he's also rewarded with sex for every step in the transformation.
The player loses clothes in the Circe's revenge, he answers the call of nature and a new dungeon is available – help Lamia with skeletons.
Conversion of the Amazons to the new engine continues.
v0.10.0.3
The new story is beginning - Circe's revenge (male to pig). On new game engine. Story plot, first maps and first sex are done.
Amazon – Xenia – What will happen between shemale Xenia and the player in transition? Maybe taking her penis in mouth and try position 69. There are two variations - female x shemale or shemale x shemale.
Amazon - Mea&Vea – striptease and lesbian pissing. New mini pissing game. If the player is transformed enough, it's possible to enjoy pure lesbian group sex. More pissing in the lesbian threesome.
Amazon – Trying on some women's lingerie with Dandelion. Mental transformation - develop a taste for wearing sexy lingerie. Trying on stockings, panties, corsets which continues with soft lesbian intimacy.
v0.9.0.0
The main story, Amazons - Baron's soldiers, continues. The next step of your transformation, now you part of the Amazons, there is no way back for you.
The Dandelion continues to show the ladies' lingerie. Lesbians story.
Mea & Vea, the pissing story continues.
Xenie, Shemale Story - Take her penis in her mouth.
New ilustrations by professional 2D / 3D graphic designer.
More translations Bulgarian, Romanian (translated by google translator)
v0.8.0.0
A total of 18 magic potions of variations and recipes for their production. Recipes can be found in dungeons.
New stories (Xenie - the player touches her penis? Dandelion - does the player wear her lady's blouse ? Cassandra - Massage and punishment for player)
New ilustrations by professional 2D / 3D graphic designer.
More translations Greek, Turkish, Chinese (translated by google translator)
v0.7
Inventory upgrade - the clothes system is intuitive.
More optional story, with Kassandra. Kassandra can make a maid from a player. The possibility of becoming a make a maid is more, but it is optional.
Illustrated by professional 2D / 3D graphic designer.
More optional shemale story, with Xenie.
Amazons Mea and Vea - lesbian sisters. New optional XXX story (wet orgasm – squirting and lesbian pissing).
More translations Lithuanian, Slovak, Ukranian, Norwegian (translated by google translator)
Update 0.6
- Hair - style, color, length
- More story, a special dungeon, after which the amazons do not refuse the player.
- More XXX story Xenie is shemale.
- Amazons Mea and Vea - lesbian sisters.
- Work on a better game engine continues. (Fighting Units)
Update 0.5.0.13
Fixed a random error while saving the game.
Update 0.5.0.12
Fixed bug "Access violation…" after Load game.
Update 0.5
(Episode 2) Punishment of spanking - a beating from Kassandra. For poor work.
Better English translation - no machine translation. (since version 0.4.0.3)
New character Xenie, an optional shemale story.
Intimate friendship with the Dandelion.
Mini-game Anal sex.
Work on a better graphic engine "Orloj" continues. Test demonstration in game.
Guidelines:
1) Lesbian vampire lover
Carmilla - Queen of lesbian vampires. He bites you and your turn begins. Sometimes they try to seduce you. At the end, you can decide to volunteer her. Or you will kill her and you will become a human again. Or you will kill her and become the queen vampire.
Medea - Succubus. She likes sex and dancing. If you dangle it will help you (more lives, will increase seductiveness). If you kiss her or have sex with her, you will transformation yourself in succubus and grow your tail, horns, wings.
Buffy - Vampire Hunter. If you have the seduction of 10, you can have sex with her. And if you become a queen vampire, you can turn it into a vampire.
2) Amazon desire
Kassandra - Your mistress, the druid you serve. He gives you assignments, he pays you, gives you food and bedtime. If you're doing poor homework, you'll get a crash from Kassandra. If you behave well, you do not talk, you get sex with the Amazon. Amazons hate a man, but some amazons want to get pregnant, and you're the only man. Later, you will learn to mix potions. After a while, if you behave well, she suggests you to declare yourself a woman and change your name if you refuse, and later she will repeat her proposal. If you are at least 60% changed, it will allow you to assist her during a bath.
Dandelion - If you are converted to at least 20%, you will save it in front of the copper in the dungeon where the blueberries are collected. Then you gain access to the village of Amazonas, but not all Amazons in the village respect you. Dandelion becomes your girlfriend. They will teach you how to do homework easier. She likes to talk to you about girl things. Sells women's clothing (panties, corsets, stockings, skirts, armor). Later, you will learn to shave pubic hair.
Xenie - (Optional shemale Story) An Amazon that likes women but also excites cock. She likes anal sex and later finds she wants to have her own penis. If you bring her the right potion, her penis will grow and she will be shemale. She hates a man, but she will talk to you if you have at least breast size "A" and have a penis. He lives in the village of Amazon.
Instructions/Characters:
1) The love of lesbian vampires
Carmilla – Your aunt Carmilla invites you to her manor. She bites you and you change to a vampire.
Medea – Succubae, demonic vampire, who longs more for blood than sex. She has horns, demonic tail and wings. She likes sex and dancing. She'll help you if you dance for her. She can increase your health, pause your transition to a vampire or increase your seductiveness. If you'll kiss her or have sex with her, you'll become succubae too.
Buffy – vampire slayer. She can help you turn away or delay your transition. If you have seducing more than 10, you can have sex with her. It is possible to change her to a vampire.
2) Desire of Amazons
Cassandra – your mistress, who you promised to serve to. She sets you tasks, you get a wage, food and a place to sleep. If you do the task badly or if you answer back, you'll be punished. But if you behave well, Cassandra suggests you to have sex with another Amazon, who wants to get pregnant, because you are the only man in the forest. Cassandra also teaches you how to make magical potions and later she suggests you transform into a woman and change your name. If you don't behave yourself, Cassandra makes you a maid.
Dandelion – You'll find her in dungeon, blueberry forest, if you are already at least 20% transitioned to woman. Dandelion hasn't been Amazon since her birth. She ran to Amazons when the soldiers raped her. She likes to talk about girly things. She makes you see Amazons in a different way. She helps you with housework and teaches you how to dress and how to shave your pubic hair.
Xenia (optional shemale story) – she's Amazon who, like other Amazons, hasn't seen any man before. She's lesbian and like others, she disrespects men. Xenia feels she's different. She doesn't like man, but she would like to touch a penis. Xenia lives in a village with other Amazons and she doesn't want to talk to you at first, you have to have at least A breasts and penis. One day Xenia finds out that she wants to have a penis too. You can make a potion called Centauri wine, made of mushroom and blue flower, for her, she will have her own penis and she'll become a shemale. Later she'll want a body oil, made from sunflowers and white flower.
One night, at the time of your 40% transiton to a woman, the forest fire starts. It's compulsory mission. You have to firefight with Cassandra to save Amazons. Since you'll have saved Amazons, they will recpect you.
Mea & Vea - (optional lesbian pissing story) They are lesbain sisters. They start to talk to you after the wildfire. Mea is a hairdresser, she can change the length, style and color of your hair. Later, they will ask you to make a vibrator (made of honeycomb and a mushroom. When they ask you for another vibrator, one is few, they'll offer you sex. Vea has wet orgasms (squirting).
Additional Info:
Lesbian vampire lover ( female to vampire) - The transformation of a young chaste girl into an obscene lesbian vampire. This episode is complete, but I will improve it. An optional variable into succubus is planned. So far, it can be done in three ways:
- Exorcism and become a human again.
- Become obedient to the lesbian vampire of the Queen Vampire.
- The state is vampire with a lesbian dominion and hunt for other girls.
Amazon desire ( male to female ) - The transformation of the knight who was tasked to conquer the forest amazons, into a woman. You, a proud knight, have fallen into a trap. Amazon Druid Kassandra will become your lady. If you serve it well, clean, wash, cook, you will survive. Kassandra slowly turns you into a woman. Maybe you're angry, maybe you're scared, maybe you like it. For your obedience, under her guidance you can learn potions (potion of breast growth, shorting / enlarge penis potion or, in spite of her lady, potions other).You can now buy and dress clothes. There is a great selection of corsets, stockings, dress of immoral or combat armor. Do you want to be an amazon? The episode is not complete but can be transformed 100%
Revenge Circe ( male to pig ) - The transformation of the ship's captain and his crew in the pigs. This episode is at the beginning.
DOWNLOAD
Win -
MEGA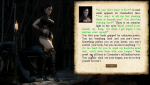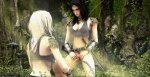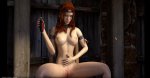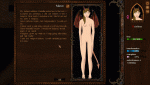 ​
Last edited: