Developer
: Manka Games
Patreon
-
Discord
Thread Updated
: 2021-01-25
Release Date
: 2021-01-14
Censored
: No
Version
: 0.3.1
OS
: Windows, Linux, Mac
Language
: English
Genre
:
3DCG, Male protagonist, Adventure, Point & click, Groping, Voyeurism, Handjob, Vaginal sex, Creampie, Titjob
Overview:
The game is about Lee, who travels by plane to a hotel on one of a small distant Bahamian island, but something unexpected happens, so he'll soon face a vivid adventures and good bunch of survival.

An exciting process of taming wild and hot babes, which will open access to a variety of unusual kinks and passionate situations, an island full of mysteries. You will have to develop skills, find contact with wayward girls, complete quests and eventually understand whether there is an opportunity to escape from a desert island!​
Installation
:
Changelog
:
0.3.1
Reworked locations internal logic.
Add some strange mushrooms and berries.
Add new random hunting events.
Add rock gathering task on beach.
Tasks are now completed faster by 1 second.
Add SOS building. It's hard and tiresome process, that lasts for several chapters.
Cooked food params slightly balanced.
Improved collision in hunting minigame.
Add warning when using old saves.
0.3.0
Story continuation
Crafting mechanics
New bonfire mechanics
Hunting minigame
Updated tasks and items UI
New bugfixes and new bugs
0.2.1
Return to steering game after loose, instead of main menu
Add gallery mode to minigames
Many fixes
0.2.0
Story continuation
Added new chapter with new survival mechanics
Day/night cycle
Refactored progress class, old saves are broken
New minigame
Many fixes and improvements
0.1.4
Fixed bug, appearing in saving/loading in some cases
Added button to start credits from outro
Fixed multiple small bugs
Active hints and control adjustments in steering minigame
Fixed some confirm captions
0.1.3
Fixed bottle duplication on some scenes
Added hints to steering minigame
Changed some animations and logic in steering minigame
0.1.2
First public release
Developer Notes
:
In our game, we decided to replace all texts with emojis. This is an experiment and a serious challenge for us. But it will allow players from all over the world to enjoy the game, regardless of their knowledge of the language. All dialogues, thoughts, tasks in the form of emojis — isn't that fun!
DOWNLOAD
Win/Linux: MEDIAFIRE - GOFILE - UPLOADHAVEN
Mac: MEDIAFIRE - GOFILE -
UPLOADHAVEN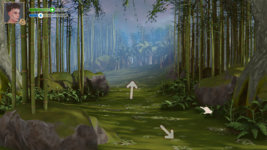 ​