​
Other Names
: Steins;Gate Hiyoku Renri no Darling - Steins;Gate 比翼恋理のだーりん
Developer:
5pb Games | Nitroplus
Publisher
: 5pb Games | Spike Chunsoft
Version:
Final
Release Date:
2019-12-10 (English)
Last Updated:
2019-12-13
Censored:
No
OS:
Windows
Language:
English
Voices
: Japanese
Length
: Medium (10~30 hours)
Store
:
Steam

Genre:
2DCG, Male Protagonist, Harem, Japanese Game, Multiple Endings, No Sexual Content, Romance, Sci Fi, Trap, Voiced
After repeated D-mail experiments, Okarin jumps to a world where 3% shift in world line was to be expected. And before he knew it, Kurisu as well as the rest of the members have been gathered and amidst preparations for a banquet.
In this world, a new gadget had been created but the group is facing some troubles. They can't afford to pay the electricity bill due to running too many experiments. Let's see what this new gadget can do for us…
The concept for this game is a love comedy with some sweet romance scenes and where 99% of the world is science but 1% is composed of … fantasies?!
Changelog:
DOWNLOAD
Win -
MEGA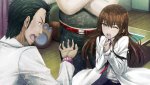 ​