​
Developer:
Sweet Heat -
Patreon
Version:
0.0.3c
Release Date:
2020-01-16
Last Updated:
2020-01-28
Censored:
No
OS:
Windows, Linux
Language:
English
Genre:
2DCG, Male protagonist, Fantasy, Humor, Big ass, Big tits, Exhibitionism, Masturbation, Oral sex, Teasing
Overview:​
SpicyQuest is an
Adult-Themed Fantasy Visual Novel Game
in the style of a Sitcom (Situational Comedy), inspired by
Parks and Recreations
,
Brooklyn Nine-Nine
, and
The Office
, with world-building inspired by the story of
The Witcher 3
and
Mass Effect 2
.
Changelog:
Developer Notes
:
The game will come in episodic chapters, each with a self-contained story.
We're focusing heavily on character interactions and storytelling rather than just cheap thrills and instant gratification; we want you as the player to be invested and have a memorable experience in this universe.
With that said, this may be an Adult-Themed Visual Novel Game, but we will have both a Safe for Work and Not Safe for Work versions, depending on your preference. We want you to enjoy the story and have a choice of whether or not you want the adult visuals to accompany your experience!
DOWNLOAD
Win/Lin -
MEGA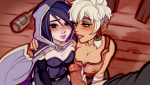 ​