​
Developer:
Zehmun
Patreon
Version:
0.2.71
Release Date:
2020-05-23
Last Updated:
2020-06-11
Censored:
No
OS:
Windows
Language:
English
Genre:
2DCG, 2D Game, Male Protagonist, Futa/Trans, Monster girl, Big tits, Fantasy, Oral sex, Vaginal sex, Creampie
Overview:​
You will be in the control of a young man living in a small village in a small port town in a large magical land. Being the only man in age to reproduce in the village, you shall partake on various activities with diverse types of girls! Just returning from long years of training, you will see the changes time made on the village you grew on and on the girls that live there. Are you ready to utilize your powers to help the growth and prosperity of a little village?
Changelog:
v0.2.71
Added Lamir Relationship 2º Heart Quest.
Again, no sex right when the quest ends, you will need to find her in the bathhouse at night to see it (18:00~22:00)
Added Repetitive Lamir Relationship 2º Heart Sex Scenes.
Talk to Lamir Sunday at night to enter the bath, then speak with her again inside the bath. (18:00~22:00)
Added new maps related to Lamir's Quest.
"You guys can have a peek on the Merchant's district of the Capital that will be explorable sometime soon"
Added new way to save. (Book inside Player's room)
Increased the area around the bed that can be interacted to sleep.
v0.2.6
Added new quest board system (Receive a letter at level 3 to unlock)
Added a new quest from the quest board.

Seraph x Lesser Succubus foot worship /footjob scenes

Added new enemies

Seraph [lv.3]
Lesser Succubus

Added a temporary fix for MC jumping away from the screen during dialogue. (Interact with the statue in front of the clinic to update your save file)
Added new maps
Rework on the fishing system (New fishing minigame!)

Added new types of fish to be found.
"Groundwork to find fish girls in the water"
V0.2.5.0
Patch Notes
Added Lene Relationship 2º Heart Sex Scenes.

Heads up! No sex when the quest ends, you will need to find her in the tavern at night and flirt with her for it to start (18:00~22:00)

Added 2 new enemies.
Added new maps related to Lene's Quest.
Fixed a bug related to RPG Maker interaction with quests (Lene first quest ghost)
v0.231 Public
Illyana Relationship System 2nd Quest.
"I'll say, Illyana's first quest had too little content. But, this one is to change that, using the characters surrounding Illyana (Mia, Nia, and Lene) to craft a fun story that ends with the protagonist sharing a bed with the dragon girl."
Added new non-interactive mobs
Added new maps
Added new musics
Fixed some bugs related to past updates
v2.2
New for Patreons

Added Repetitive Vis'Zera Sex Scenes
Added Vis'Zera Schedule
Added New Characters Sprites
Vis'Zera
Added New Slime Cave maps
Added New Quests
Added New Letters
Added New interactive enemies
Vis'Zera
Goblin
Fixed some bugs related to past updates

New in Public

Added Maribel Repetitive Yoga Scene
"Maribel's repetitive yoga scene is here! There is a lot to it, with quite a considerable ammount of choices to make, with each leading to a entirely different result."

Added Maribel's extra scenes after the first heart.
"Those were bugged in the last patch, but now they are out. You can check out where to find the on the guide"

Rework of Mia/Nia Schedule
"Mia and Nia's Rework is out! They were generic NPCs in the past, now they at least have images and a schedule."

Added New Characters Sprites
Mia and Nia (4 Expressions images for each)

Fixed some text errors from Alpha updates
"That is, fixed the intro scene that changed between second and third person, and other small errors"

Fixed some bugs related to past updates
v0.2.0
Added Lamiriel Relationship System

Added New Repetitive Scenes
Added "Beach Fuck" for Clarine anyday at Night (18:00~22:00)
Added "Titjob" and "Breast Suckle" for Annabeth at Anytime!

Added New Non-Sexual Scene Related to the Relationship System.

Added New Characters Sprites
Falk, The Witch
Annabeth, The Nightmare.

Added New Maps
A few maps introduced at this update are directly linked to the quest, but we will soon integrate them to the normal map for free access.

Added New Items
"Items directly linked to Lamir's Quest were added, and a few new monster drops were introduced and will soon be integrated to the shops and it's extra utilities added"

Added New Enemies
Ghost
Angry Ghost
Nightmare

Fixed some bugs related to past updates
v0.1.8
New on Public Build
Added Elinnie's Relationship system
Elinnie is the third girl to receive her first heart quest, we are excited with the plot of her quest, as it is somewhat different than the others that came before.
Added New Repetitive Scenes
Added "Foot Massage" scene for Illyana
Friday during morning and day (06:00~12:00 and 12:00~18:00)".
Added "Foot kiss" scene for Illyana
Tuesday during the day (12:00~18:00)
Added Button Screen system
We hope that with this the use of items will be more intuitive, and it will help with the future compatibility for Android devices we are working on.
Trough this system we will be able to explore news like the new Relationship Menu!
Added "Bengala's Journal"
Bengala's Journal is a key item and a Tool you will receive during the tutorial. We will add another way to receive it, as people that already have a save file might end up without it.
Added Help text (Trough Bengala's Journal Tool)
Added Relationship Menu (Trough Bengala's Journal Tool)
"The Relationship Menu will allow you to learn a bit more about the girls of the game together with a bit of backstory about them."
Added a few talk scenes related to the Relationship System.
Added new mob (Honeui)
Rework of image system
This was the biggest part of the update, and the reason it took so long to be completed. We hope that this fixes the problems with lag and crashes that plages the game for a few people.
Added New Maps
Fixed bugs on Blacksmith's quest
Developer Notes
:
Gameplay:
As the only man in town you will be forced to partake on various challenges to help the little port town you live in. Like helping the village nobles or just living your own life creating relationships with the various girls that live there.

You are bound to fight terrible monsters and create relations with various girls. If you do a good job you will be rewarded by the lovely females.

On the game the protagonist will be able to choose how he will interact with the world, but most importantly he will choose how he will speak with the girls, choosing from 3 specials choices the correspond to three different kind of answers, those being:
- The Gentle
- The Naughty
- The Submissive
DOWNLOAD
Win -
MEGA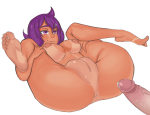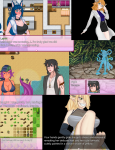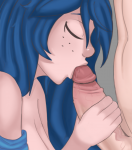 ​
Last edited by a moderator: