​
Developer:
Sugar Star -
DLsite
Version:
1.02
Release Date:
2020-01-27
Last Updated:
2020-01-27
Censored:
Yes
OS:
Windows
Language:
English (Professional Manual Translation)
Genre:
2DCG, Adventure, Female Protagonist, Totally Happy, Successive Orgasms, Interspecies Sex, Loli, Sisters ,Creampie, Rape, Tentacles, Oral Sex, Vaginal Sex
Overview:​
The Marmar Kingdom is protected by a guardian angel.
There was a demon sealed in that land. It plotted to take advantage of the rookie guardian angel Ariel, and have her remove the seal placed on it.
Content:
* Original Battle System
A command input style battle format. Climax through slipping her aphrodisiacs or controlling monsters to violate her. When you lose or climax in battle, mating mode in enabled, and you get mercilessly violated! The higher her sensitivity, the easier Ariel climaxes.

* Weakening System
By gaining sexual experience, you earn weakening points, and lower her level. When her levels are lowered, she can obtain fallen fragments. By collecting these fallen fragments, she can learn new commands, and increase her behavioral stats.

* Actions in Town
By gaining sexual experience, Ariel becomes curious about more things. She can work at the bar, or teach sex ed at the private school. Make Ariel have lots of sex, and corrupt the entire town!

* Contents
- 30 base CG (315 incl. variants)
- 10x patterns of In-Battle & Touching Erotica
- Sex scenes are fully voiced, other parts are semi-voiced
- Underwear changeable, and clothes can be changes by scene
Incl. erotic cut-ins
DOWNLOAD
Win -
MEGA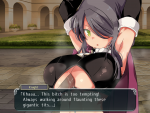 ​