Tech Devil
Administrators
​
Developer:
NekoPan Cafe -
Patreon
Version:
1.8 ALPHA DEMO
Release Date:
2020-02-11
Last Updated:
2020-03-10
Censored:
Yes
OS:
Windows
Language:
English
Genre:
3D Game, Female protagonist, Adventure, Censored, Combat, Female domination, Furry, Groping, Lesbian, Side-scroller
Overview:​
Saeba is going to be a massive stylish sidescrolling action game set on an animal ear planet, with ecchi elements similar to the Senran Kagura series. It sets out to provide a deep, fun combat experience, and ecchi elements that are expanded upon with more varied concepts than the average ecchi games being released today!
Changelog:
v1.8 ALPHA DEMO
4 NEW ecchi armor break animations added!
1 NEW ecchi attack added to human enemies
2 NEW outfits now available! (check developers notes about this below)
5 NEW hairstyles added (main character's original braid hairstyle retired until further notice)
Hairstylist and clothing shop now added in the city!
The human enemies are now diverse. A system for randomly choosing between eye color and style, hairstyle and color, and outfits has been added and all human enemies use these systems for now.
The player has been nerfed.
===Mana now recharges half as fast
===you cannot double jump while in mana overload. (if this is not fun, please tell me so I can change the values a little bit)
===If you spam dash, you'll enter a recovery animation (if this is not fun, please tell me so I can change the values a little bit)
Bunny ear logic changed. Now they stay perked up most of the time, since that looks best.
Animal ear parts fixed. They'll no longer be half animated/half limp (this is most apparent with the cat tail and bunny ears)
Light slap sound effect added to ecchi defeat #1
Falling forward animation fixed
Enemies are now overall more intelligent.
===If someone's in their way while they are chasing you, They'll jump over and continue chasing.
===Human enemies now slightly more likely to use a grab attack if you're lying down
===Human enemies now use faster attacks if they catch up to you while chasing (for now, this is basically their grab attacks, but later they'll do other fast attacks as well)
===Human enemies now have a lot of air control, so they won't have trouble jumping over things to get to you
Eyebrows now won't appear over other characters that are in front of them. I will continue to work on this.
Jumping will no longer instantly reduce you to walking speed and then let you re-accelerate if you jump while running.
Lots of bug fixes!!
v1.2595 ALPHA DEMO
- Enemy spawners now slowly ramp up over 10 minutes survival mode style
- Grabs have been nerfed.
--Human grabs less difficult to escape now (decreased from 40 to 20 points required to escape).
--Gel grabs less difficult to escape now (decreased from 90 points to 35 points required to escape).
- There is now a grab escape bar
- You can now skip defeat cutscenes by pressing any button
- The gel tackle no longer knocks over on hit. Instead, it raises an invisible amount of knockdown points. If the knockdown points are full, you'll be knocked over
- Damage multiplier for the player's clothing increased
- You can now change the controls to your liking.
- All known null pointer issues fixed. The game should be much more stable overall, but the warning will stay.
- Fixed rotation alignment when mana blade falls out of an enemy's hand
- Helpful gameplay tips now generated on game over.
- Aerial Combo now able to be canceled by an air dash
- Game over buttons can now be clicked
There's probably more, but these are the most important.
v1.1 ALPHA DEMO
- First release
Developer Notes
:
This is an ecchi game. I don't mean to mislead anyone, so It's probably important that I mention that Saeba doesn't have sex scenes and isn't meant to have any.

This alpha demo does not have an in-game tutorial, so for now controls are in a text file included with the game.

Please have fun!
DOWNLOAD
Win -
MEGA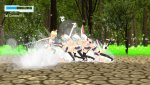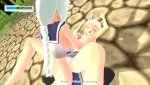 ​
Last edited: