Tech Devil
Administrators
Developer/Publisher
:
Norn / Miel
/
Cherry Kiss Games
|
Steam
Version
: 1.4.2
Release Date
: 2020-03-30
Last Updated:
2020-03-30
Censorship
: Yes - Mosaics
OS
: Windows, Linux, macOS
Language
: English
Voice Language
: Japanese
VNDB
:
LINK
Title
: Tensei Yuusha to Ryousai Maou no Kozukuri Slow Life
Original Title
: 転生勇者と良妻魔王の子作りスローライフ
Aliases
: Fantasy World Slow Life Baby Making with a Demon Lord Wife
Length
: Very short (< 2 hours)
Genre
:
2DCG, Anal sex, Male protagonist, Masturbation, Handjob, Oral sex, Titfuck, Vaginal sex, Big tits, Creampie, Fantasy, Monster girl, Romance, Urination, Virgin, Voiced, Lactation, Censored, Japanese game
Overview:​
You save the beautiful demon lord from an evil spirit that had been controlling her and run away together to start a new life. Enjoy a flirty loving baby making life full of love and sex! After saving Rishie, you discover that she is much kinder and gentler than a demon. Enjoy sweet time spent with your new beautiful wife!
DOWNLOAD
All -
MEGA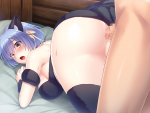 ​
Last edited: