​
Developer
: Jill Gates -
Website
-
Patreon
Version:
0.65
Release Date:
2021-01-18
Last Updated:
2021-01-26
Censored:
No
OS:
Windows, Linux, Mac
Language:
English
Other Games
:
Sword of Wonder
Genre:
3DCG, Female Protagonist, Harem, Lesbian, Adventure, Fantasy, Oral Sex, Voyeurism, Romance, Vaginal Sex
Overview:
Polly, heir to the throne, is anxious about her duties in ascending to such a responsibility. Among them, producing an heir, ruling and being with a man. Does she pursue her destiny, or does she carve her own path?​
Changelog:
0.60
Romancing the Kingdom .60 has over 360 new images, 7+ animations (3 in 30 FPS) and more in the new update. In total, Romancing the Kingdom now has over 1,100+ images. This update was so big, 20% of all images and animations in the game are brand new in this specific update. Awesome right?
Detailed release notes:
Game play now goes through day 17 (one of the longest days in the game), this sets up the "back half," of the story and introduces a character that you may have seen in Sword of Wonder.
Other notes and improvements:
Dialogue, text in the new version is about 20% of the total game to date, as well as the images (there's a lot of content).
The prologue improved in the .56 version, this one also contains a revamped set of scenes for the first day (day 0 in game) where Polly meets Jack.
Spelling, grammar and bug fixes a plenty to ensure the experience is amazing.
0.56
A few helpful people identified some bugs along the Briley path in Romancing the Kingdom; one of which resulted in a player only being able to experience the first ~9-11 days of content, instead of the full 16 days of content that's available in the current version.
So I fixed those errors, updated the function to ensure that if you play from an older release it still works and also I swapped out ~20 or so images that I wasn't thrilled with from early in the game (prologue, also the repeating Polly & Jack kitchen scene).
Last, I've compressed more of the PNG images so the overall footprint of the file is a bit smaller.
V0.5501
90+ brand new images
Three new animations, Many news scenes, with more story and writing in this update than the previous .50 update.
One new day in game play that advances the story significantly.
v0.45
88 new images in game (71 story, 30 animation) (compared to a total of 74 last month with animation, so a bit more visuals).
6 new riding to Camelot renders (previously just referred to as "the city,")
42 Camelot arrival and inn with Polly's interrogation of the Inn's staff
10 Camelot departure scene
9 new throne room scene
3 new travel / background images
1 new 30 frame animation (f/f oral scene)
v0.40
What's new in this release?
First, clearly, there's the new name. Then you'll notice the new game & title screens, the credits (if you get to the end of the current release) and of course 60+ renders, new animation and more.
This is the biggest update I've ever done over a month (or in this case, 5 weeks). I think you'll love the many bug fixes, improvements and new scenes.
DOWNLOAD
Win -
MEGA
- ANONFILE -
MIXDROP
Mac (v0.60) -
MEGA
-
WORKUPLOAD
Linux (v0.60) -
MEGA
-
WORKUPLOAD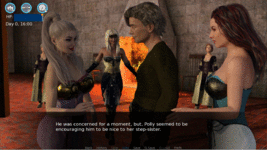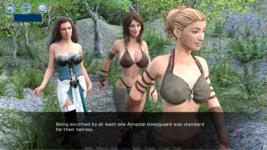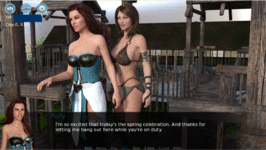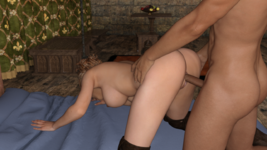 ​