Tech Devil
Administrators
​
Developer:
EmptySet
Patreon
Version:
0.2.5
Release Date:
2020-03-16
Last Updated:
2020-03-16
Censored:
No
OS:
Windows
Language:
English
Store
:
itch.io
Genre:
2D game, 2DCG, Male protagonist, Fantasy, RPG, Animated, Adventure, Simulator, Monster girl, Handjob
Overview:
A farming game where you can have sex with your villagers and your animals.​
Changelog:
Version 0.2.5
Character Design Improvements

Layla
Katherine
Cat
Marga

Scenes

Samantha Sex Scene
Katherine Blowjob Rework
Layla Sex Scene Rework

Improvements

Update stores schedule

Seed Shop (Closed on Saturday)
Animal Shop (Closed on Wednesday)

Update character schedule
Update Likes and Dislikes of the characters

Layla
Katherine
Samantha
Karen
Beatrice
Hazel

Change Cheat Codes
Increased Maximum Stamina from 250 to 300.
Buying Stamina Power up increased stamina from 50 to 100.
Reduced Tilling and Watering stamina cost.
Harvesting plants and foraging doesn't cost stamina.
Increased Affection gained on giving gifts
Unlocking the Dog and Cat doesn't need 100 affection anymore. (but still, you need to build their houses)
Version 0.2.4
Add info in Fishing Controls
Add Pop Up Text on Gaining Energy
Change Main Character Design
Ability to eat
v
0.2.0
· Title Screen
· Credits Section
· Add more text for some characters
· Tasks
· Map UI
· New Decorations in Mayors House
· Rework Characters
· Rework Scenes
· Raining
· Fishing Rework
· Reworked Fish Icons
· Radio for Weather Announcement
· Ability to Read Books to past time.
· Confirmation Menu
· Improve Barn Design
· Add Prices beside the Item name in the Inventory
· Add Rain SFX
· Added Exit to Title Button on the Menu (Fixed the bug in the buttons)
· Added more hotkeys
o Menu (Press 1 for Profile, 2 for Inventory and so on…)
o Intro Scene (Esc Button)
o Shower Scene (Space Button)
· Fixed the bug spawning stones and woods in the dirt tile
· Hopefully fix the crash bug when characters disappears/change scene.
v
0.1.8
Summer Seeds
- Corn
- Radish
- Pineapple
- Carrots
- Tomato
Carpenter Shop UIBuildings to construct:
- Doghouse
- Cathouse
Functional Chest
Functional Calendar
Shipment UI
New Characters:
- Cat
- Dog
- Carpenter
Rework Character
- Player
New Scenes
- Dog Sex Scene
- Cat Sex Scene
- Karen Bathroom Scene
New Cheats for Patrons
Controls
:
WASD / Arrow Keys - Move
1-8 - Switch Equip
Mouse / Space bar - Action or Interact
Shift - Sprint
E - Open Inventory
DOWNLOAD
Win -
MEGA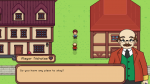 ​
Last edited: