Tech Devil
Administrators
​
Developer
: MJ & Aoigai
Patreon
-
Website
Version:
0.59
Release Date:
2020-05-10
Last Updated:
2020-05-19
Censored:
No
OS:
Windows
Language:
English, Japanese
Translator
: Alicemagic
Patreon
Genre:
3D Game, Japanese game, Male protagonist, No sexual content, Virtual reality, Transformation, Female domination, Horror, Giant, Shrink
Overview:
In this game you shrink down and let a certain girl have her way with you.​
Changelog:
v0.59
It contains a short continuation of the "handkerchief bed" scene!
v0.581
・Bonus Scene 02 now sends you back to the title screen when it ends.
・Made the bath scene run smoother.
・Adjusted the fog settings in various scenes.
・Reduced the start-up time of the game... we hope. We didn't really manage to change it all that much. We'll work on this issue more later since fixing bugs takes a lot of time as well...

・Changed the game's Zip compression method to the Windows default.
v0.58
We've added another alternate continuation to the mouth route as well as a bonus scene.
The bonus scene coincidentally looks like it connects to the story, but it actually doesn't take place in any specific point in the story and isn't a continuation of any of the routes.
Creating the water physics took us a lot of time, and we wish we could've made it look better... Either way, there's relatively little content this update.
v0.561
・Fixed the infinite running animations for the female NPCs during some of the city scenes
・Fixed the poor polygons at the corners of the mouth and the normal map for the upper jaw
・Re-added the bonus scene that was accidentally removed from this update
・Adjusted the lighting inside the mouth
・Made TPS Mode off by default
v0.55
-A continuation of the city path, where Chieri chases tinies who try to escape.
-A continuation of the escape through the door path, where Chieri tortures/bullies Makoto.
v0.54
- There's about 20 minutes' worth of new story content, including the brief preview for the city scene revealed earlier.
- We were sick for most of the month so we had to rush this release a bit to make it in time. Some parts of the update may still need some polishing.
- There is no bonus scene this time.
- During some of the new scenes there's a special slow-motion effect during which it's impossible to pause or open up the menu. This isn't a bug, although we might still change it for the final release.
v0.532
・Pause function (without menu display)
・"Outfits" option in the menu (the only currently available outfit swap is socks/barefoot) ・Current height display
・PC spec output button
・Fixed display bug that causes the model's eyes to glitch out
・Optimized for slightly smoother running speed
v0.513
Initial Release
Developer Notes
:
It supports VR (HTC Vive, Oculus Rift, etc.) but can be played without it as well.
We are planning to release it on Steam once development is complete; as it is still currently in development.
DOWNLOAD
Win -
MEGA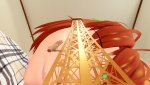 ​
Last edited: