​
Developer:
YFIGamemancer
Patreon

Version:
0.1
Release Date:
2020-01-07
Last Updated:
2020-02-04
Censored:
No
OS:
Windows, Linux
Language:
English, Russian
Genre:
3DCG, 2D game, Female protagonist, School setting, Cosplay, Voyeurism, Big tits, Exhibitionism, Uniform, Policewoman, Teacher, Shoolgirl, Family
Overview:
One policewoman girl was sent to high school to work undercover as a teacher and everything goes okey dokey.​
Changelog
:
v0.1:
- Some events, CGI and animation has been added.
- Some bugs has been fixed.
Developer Notes
:
For now it is more like an interactive comics. Game mechanics has been improved for the next version (v0.2).
Movement speed can be changed now (school hallway trash can).
I'm looking for a proofreader (RUS->ENG translator would be even better.
If you have some questions about bug fixes, game mechanics, ideas about the game development you can write it down at the game discord server:
PHS Discord
DOWNLOAD
Win/Lin -
MEGA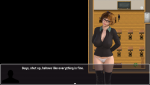 ​
Last edited by a moderator: