​
Developer:
Scale Garden
DLsite
- Pink
Version:
Final
Release Date:
2019-10-24
Last Updated:
2019-12-21
Censored:
Yes
OS:
Windows
Language:
English
Genre:
Female Protagonist, Cuckoldry, Humiliation, Rape, Married Woman, Big Breasts
Overview:
Reiko is a married woman who works at a plant factory in the undercity, but she has a secret that she keeps even from her husband. Unable to refuse to repay a debt, she fights in an arena in the over city.​
Translator Notes
:
This is a fan translation of the Scale Garden's game Pink Slave. Since I didn't have time to play through the game once I finished the translation there are probably more than a few grammar mistakes and there may be some untranslated lines I missed. If you notice either one, report it in this thread and I'll fix it and update the translation. If you want to report untranslated lines, please tell me also in which scene/event that happened so I can easily find it.
DOWNLOAD
Win -
MEGA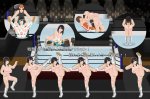 ​