Tech Devil
Administrators
​
Developer
: ankoku marimokan -
DLsite
Version
: 1.0
Release Date
: 2019-06-01
Last Updated
: 2020-01-27
Censored
: Yes
OS
: Windows
Language
: Japanese
Genre
:
2DCG, Male Protagonist, Rape, Gangbang, Delinquent, Urination
Overview:​
A one-hand playing style using just a mouse!
If you defeat the violent girls in combat, it's time to r*pe them!
Most play can be done with
Left Click OR Right Click to finish.
Click different places and enjoy!
Story
Near the trash heaps in the alleyways of the midnight city,
delinquents and criminals gather to cause trouble...
However, little did they know,
that individuals with time and power known as DESPERADA (violent girls)
blended into the night to hunt down wrong-doers.
"Man, no matter how many we hunt there's so much scum in this city
My name is 'Parka girl the Breaker'
I work as a sort of volunteer, to hunt down the human garbage here.
You can call me 'The Breaker.'"
Installation
:
1. Extract and run.
Necessary Settings: The application may not function unless a Japanese language pack is set properly in your PC / the System Locale is set to Japanese.
Changelog:
DOWNLOAD
Win -
MEGA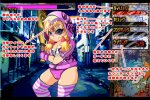 ​
Last edited: