​
Developer:
DVE Games
- DVE Games - Subscribestar - Discord
Version:
3.1.R9
Release Date:
2020-01-23
Last Updated:
2020-01-23
Censored:
No
OS:
Windows
Language:
English
Genre:
Overview:​
From the Dev Team: Welcome to Patronus! Patronus is a slave training game set in ancient Rome. It's a straight historical setting without fantasy elements. This is an Alpha version release. We know that there are bugs, problems, explosions, fiery loss of boner issues, etc. Don't Panic! Better releases are on their way.
More:​
Gameplay:
There are a couple of new or different mechanisms in this game. The first is the day planner. In the upper left corner of the screen you will see a Star/Sun or a Moon. If you click on this you can schedule activities. Right now there are only basic travel activities, but more content is coming, stay tuned. Also new to the genre is that each character has some stats that are not immediately visible. For example, the player will have no direct way of seeing the protagonists Inclicio statistic. This is on purpose. Sometimes, you will also see menus change in weird ways including additional information on the character you're talking to. When this happens it means you've successfully made an insight roll. Don't Panic.

Training Slaves:
You will have to take your slaves to the bedroom and attempt training in order to unlock them working in the bordello. If you fail, you can punish the slave. Read the hints on how to do this. Keep it in the green. Also, don't do this too much.

Quests:
Some content is only unlocked after completing quests. We have created a simple, sample tutorial quest so you can see how it works.

Content:
The alpha content ends once you have the bordello running and have trained your first slave (Fasti) to serve patrons. That's the alpha. We hope you enjoy it. Right now, only massage, bathing, boobjob and hand job unlock in alpha. Other sex acts unlock later.
Changelog:
Change log between 3.0.3 and 3.1.0:
Added new slave training
Massage Parmida
Bath Inka
Buttjob Fasti
Realized Gradual nudity in bathing splash intro screen
Added new "waiting" timers
Improved trading system (Still need some fixes)
Added the weight and the bulk
Shipping now available
Added new dialogs:
dialogue for Parmida Massage
Kreon & Charis dialogue
Inka bathing dialogue
and more...
Quests:
[new]Find someone to train Alfidia
[new]Unlock guards
[new]Alfidia trains Inlicio
[new]Quest to unlock Baths Activity
[new]Quest to unlock court trainer
New opportunities in Fasti quest.
New locations:
Rome Slum
Roma Slum inside
Rome Forum
Added new characters:
Furnisher
Madam Pimp
Hiring Agent
No more court with dirty slaves
Added highlights for characters and transitions between locations.
Bugs fixes
Stability fixes
Pushed 147 commits
1. No fantasy content of any type. Stick with things possible in historical Rome
2. No Futa / Furry - Violates #1 above
3. No gay content in any near term releases - content is intended as het male-dom at least for now.
4. The girls that have been drawn to one degree or another are
* Fasti - Roman
* Inka - Germanic
* Parmida - Persian
* Maeve - Celtic
* Kasa - Nubian
5. The main line sex acts in increasing degrees of resistance/difficulty to unlock are:
* Massage/bathing/other non-sexual
* Boobjob, handjob, footjob, buttjob, etc
* Traditional roman doggy vaginal
* Other vaginal
* Anal
* Oral is hardest to unlock by far, the Romans thought it was the most perverse thing ever
6. Yes, Incest is on its way - Charis the sister, you need to murder her husband without leaving evidence.... and another
v3.0.3
This bugfix only addresses two small bug issues, as those are the only ones reported so far.
Alpha 3
Engine:
Biggest changes were to rip out the old scene animations and completely redo with mp4 movies
Also completely rewrote the punish game to be easier, smoother, and make more sense
Expanded quest system
Cleaned up many UI components
Updated and enhanced the law courts system - mostly works now
Baths/social is still mostly borked
Added skill trainers

Content:
Added Parmida and Inka for purchase - that's all with them so far
Added boobjob scene for Fasti, redid all her other scenes
Started Charis's husband's quest line
Added Ionus and clarified path
More redo work around skill paths

Bugs
Can't even begin to count the number of bugs we tackled

...

Also:
We will do a bug patch release this week based on what you guys see and report.
The best way to report bugs is in our discord - we will need the log.txt file and the renpy crash windows if possible.
Reporting - 'yo, shit be buggy as hell, bitch' - is not helpful
Alpha 2.5
Content:
Please note that this is NOT a new content release, it is a game engine release. The game content remains essentially the same except we've added a really ugly tit-fuck scene, and there's now added capability at the baths, and new features -> Law Courts.
Alpha 2.0
Major New / Updated Features
32 Bit improvements – We now have a working 32 bit build under test
Boobjob scene – 90%+ complete, needs tweaks, uses new animation style
New scene dialog for sex/training scenes – Under development
New/replaced culture strings – Not started
First Fasti Quest – Not started
Initial baths loop – Under development
Integrate entirely new skill system rewrite – Done

Minor New Features
Guards at bordello – Done, with place holding dialog
Interact at baths and hidden location – Done, with place holding dialog
Add initial tutorial quest – Done
Fix many tutorial issues and timing – Done

Bug Report
Currently 56 listed issues
25 open, 28 closed

Art Report
All major art complete
New dresses complete
New jewelry complete
Additional plebs complete
Initial senators, more guards, husband, etc under development
1.1
stability patches
got rid of flickering cmd windows
1.0
release
Developer Note:
DOWNLOAD
Win -
MEGA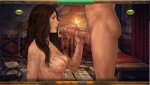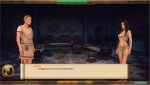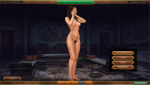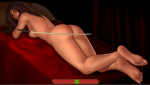 ​