Tech Devil
Administrators
Developer:
Naughty Sandbox
Patreon
-
Itch.io
-
Twitter
Version:
2020-03-24
Release Date:
2020-03-24
Last Updated:
2020-04-01
Censored:
Yes
OS:
Windows
Language:
English
Genre:
3D game, Virtual reality, Character creation, Animated, Male protagonist, Female protagonist, Futa/trans protagonist
Overview:​
Welcome to the
Naughty Sandbox Demo
, a VR-ready ero sim that will offer voyeurism, interaction and intimacy with characters of your own design.
Much of the technology behind Naughty Sandbox
is still in development
, but demos are released regularly which showcase some of the features and latest progress.
More info:
Naughty Sandbox is a vision of the future of interactive erotica.

The project aims to offer simulation of the highest graphical fidelity, in a fully interactive sandbox environment. Players will be able to massage, make love to, and fall in love with digital humans of your own design, with a planned Character Customization Suite.

Naughty Sandbox will feature incredibly beautiful and realistic skin, with ultra high-res photoscanned texture maps...
...along with cinematic quality equipment and environments, for full immersion and presence.

Naughty Sandbox will be developed in parallel for Virtual Reality headsets like Oculus Rift, HTC Vive and the Valve Index, and will eventually feature Index Controller finger tracking support - but a VR headset is not required to play.



Changelog:
Developer Notes
:
Some of the current features include -
Female face & body customization
Parallel support for VR & Desktop
Poseable females
Saveable faces & makeup system
Jiggle physics
And some features coming soon -
Multiple realistic environments
Animation
Body painting
Physical interaction
Premade erotic scenes
Some of the gameplay features at the core of Naughty Sandbox will include:
Ability to create and share your characters with an extensive customization suite
Photoreal environments with highly interactive props and furniture
Sex toys with various stats and functionality
A selection of settings and scenarios - from BDSM to romance and massage
A soft body system - characters squish and jiggle realistically
Inclusive graphical settings menu to cater visuals and performance to your hardware
DOWNLOAD
Win -
MEGA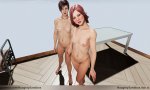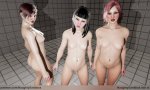 ​
Last edited: