​
Developer:
Banana King -
DLsite
Version:
Final
Release Date:
2020-01-24
Last Updated:
2020-01-26
Censored:
No
OS:
Windows
Language:
English, Japanese, Chinese Traditional and Chinese Simplified
System requirements (min):
CPU: 1GHz+; RAM: 128MB+; DirectX 9.0+; HDD 350Mb
Genre:
2DCG, BDSM, Ahegao, Rape, Masturbation, Creampie, Slave, Oral sex, Multiple Endings, Voiced, Sex Toys, Loli, Romance, Small Tits, Vaginal sex, Corruption, Sexual Training
Overview:​
One day you adopt "Nai", a young girl who constantly suffers from domestic violence, and you will take care of her for 100 days.
The girl, at first, is afraid of crowds of people and keeps vigilance over anybody.
But as you talk to her every day, you can bring warmth to her and gradually let her become not afraid of people. Then the girl will be able to connect with the world.
Developer Notes
:
The game is flexible to an extreme extent.
You can let Nai work to earn money, go out for fun to strengthen your bond with her or learn all sorts of things.
There are 11 places available for free exploration and over 50 unexpected events.

If intimacy between you and Nai reaches certain values, you can have sex with Nai in many different ways.
There are various dresses and suits. For each suit there will be different have-sex plots for different places.

Everything of Nai is well under your control. Start a unique and romantic journey with Nai right now!
DOWNLOAD
Win -
MEGA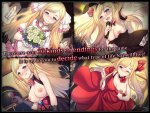 ​