Tech Devil
Administrators
​
Developer:
Tistrya
DLsite
Version:
Final
Release Date:
2019-09-19
Last Updated:
2020-01-30
Censored:
Yes
OS:
Windows
Language:
English
Genre:
2DCG, 2D game, Japanese game, Female protagonist, Fantasy, Animated, Monster, Tentacle, Vaginal sex, Anal sex, Multiple penetration, Group sex, Big tits, Pregnancy, Censored, Rape, Bestiality, Corruption
Overview:​
My name is Liza, and I am a mushikarishi. I am scared of insects. I hate them and don't want to look at them, but I have a really rare body type, and I am never chosen for other jobs. Mushikarishi is not a job that just anyone can do. I know that but...sex with insects right? I hate that idea. It is really disgusting!
More:​
When the insects are rutting, this is the quickest and most reliable method! The insects are in large numbers, and they move quickly, and many of them are poisonous. If the mushikarishi can feed their bodies, and get them to stop their movements, we can stop them with insecticide! It seems that I need to be able to drive away those disgusting insects. That is what being a mushikarishi is all about.
Installation
:
1. You need to change system locale to Japanese or use Locale Emulator.
2. You need to download and install
RPG Maker VX Ace RTP
.
3. Extract and run.
DOWNLOAD
Win -
MEGA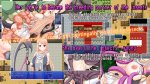 ​
Last edited: