​
Developer: Midnight Pleasure/ Remtairy
Version:
v1.12a
Plus Addon
Release Date:
2020-03-30
Last Updated:
2020-03-31
Censored:
No
OS:
Windows
Language:
English
Genre:
2D Game, Male Protagonist, Adventure, Fantasy, Monster Girl, Big tits, Management, Simulator, Trainer
Overview:​
Pay back your debt to the Grim Reaper in this management simulation game! You're a monster trainer in an up-and-coming nightclub where the lovely ladies of the night are enslaved monster girls trained by you. Win your freedom back no matter what it takes!
Over twenty different types of monster girls including types like Harpy, Werewolf, Lamia, Mermaid, Minotaur, Cyclops, Slime and Mummy! Over twenty different endings! Can you escape your life of debt while finding true love? Ingame achievements! New game plus bonuses! Start your next game with powerful advantages even if you failed to pay back your debt in time!
Installation
:
1 - Extract
2 - Run
3 - Block internet connection
Changelog:
1.12a
Fixed the game freezing when the clients get way too satisfied.
Fixed the training buttons being grayed out even when the monster girl has stamina.
Made the number animation go by a bit faster during Night Phase when the numbers are really high.
Fixed a display error with club experience when clients extend their time.
Made the maximum amount of Mood that can be gained during Night Phase to 100.
Minor bugs and typos fixed.
1.11f
Fixed the Exchange Room behaving weirdly for some people.
Fixed client's demand not being displayed properly when they want more than 5 stars.
Fixed a crashing bug related to charmed clients.
Fixed the wrong monster girl type name being displayed when switching monster girls from the reserves to the active group.
Fixed the text in the ending list overlapping when there are too many potential endings. You playboy.
The "Winged" race type has been renamed to "Avian" to hopefully avoid confusion.
Fixed the message that appears when you try to enter an invalid name for a monster girl in the English version.
Minor bugs and typos fixed.
1.11e
Fixed the Skip button being broken because of the v1.11d update. Milia really gave me an earful last night for this one...
Fixed the pages buttons for the Carry Over screen.
Changed the Lv. indicators for We're Closed and We're Opened sign so that it's less confusing.
Minor bug and typos fixed.
1.11d
Fixed the text skipping in certain situations even though the Auto Skip Read Text was turned off and the CTRL key wasn't being actively pressed down. As a reminder also, holding down the CTRL will also skip all text if you find your text is skipping!
Fixed the cursor placement when the naming window pops up if Auto Cursor Placement is turned on.
Fixed the Soft and Hard Training Level displaying incorrectly on the home screen.
Minor bug and typo fixed.
1.11c
Release
DOWNLOAD
Win -
MEGA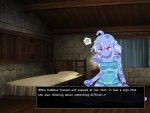 ​
Last edited by a moderator: