​
Developer:
Kirsess
Patreon
- Website
Version:
Parts 1-4
Release Date:
2020-01-20
Last Updated:
2020-01-20
Censored:
No
OS:
Windows, Linux
Language:
English
Genre:
3DCG, Male protagonist ,Kinetic novel, NTR, Interracial, Hardcore sex, Blowjob, Big tits, Big ass, Seduction, Threesome, Voyeur, Milf, Cheating, Vaginal Sex, Anal sex, Creampie, Group sex, Oral sex
Overview:​
My mother's name was Isabella. She was a drop dead gorgeous Colombian woman that managed to somehow get sexier with age. She a had naturally curvy figure, which she kept looking fit and hot over the years.
In fact, she always took really good care of her entire body. From her beautiful tan skin and long, silky lush hair to her sizable firm ass and shapely hips. As you can imagine, her chest was nothing to scoff at either and she easily sported a D cup. She was completely irresistible and even though she was my mother, even I couldn't help but admire her physique at times. Seeing her in a bikini would still drive me crazy every time.
She had a pretty face that always wore a gentle, sunny composure and she barely had to wear any make up, even when doing the news. Her outfits during the broadcasts were always quite fashionable and consistently stunning.
The guys in my class would frequently give me a hard time and tease me about her, commenting on how hot she looked in what she was wearing the night before. My bullies would go as far as admitting that they jerked off to her during the news and describing how hard my mom would make them cum. I was clearly well aware that she was attractive, and that since she was on live television, a lot of men would see her and possibly jack off while watching. In fact, men would ogle at and hit on her everywhere we go, so the guys in my class really weren't able to bother me.
That was until my most persistent bully, Tyler, came up to me and said this, "I'm so glad your mom friended me on Facebook. She's got some really hot fucking pics on there. I'll ask her to friend some of the other guys in class too sometime".
My chest pounded briefly at his oddly specific taunt. My mother was on social media a lot because of her career and had used and gotten into it a bit more than I would have liked. It was certainly possible that Tyler was telling the truth, even more so since he just walked away without elaborating...
Installation
:
DOWNLOAD
Win/Lin -
MEGA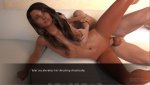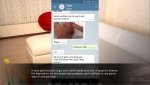 ​