​
Developer:
Ankhrono -
Website
-
Twitter
-
Picarto
Version:
0..4.0
Release Date:
2020-04-01
Last Updated:
2020-04-03
Censored:
No
OS:
Windows
Language:
English
Genre:
2DCG, Female Protagonist, Adventure, Combat, Monster, Pregnancy, RPG, Vaginal sex, Role Playing, NSFW, Turn-Based Combat, Yuri
Overview:​
Mira Co Rescue is an RPG Maker MV RPG with a lewd state based combat system. Multiple enemies with different fetishes/perils to inflict on the three party team!
Mira's tricks have finally landed herself and her friends in a mess of trouble. Now that her maid staff has been captured by the various creatures of the land, Mira, Hemmy, and Selena must travel the world to save them from being an endless supply of Mana. But they must tread carefully themselves as they can just as easily end up needing rescue as well!
SPOILER
Controls:
Arrow keys - Movement
Spacebar/Enter/Z - Confirm
X - Menu/Cancel
Ctrl - Hide Text Box during dialogue (To view images better)
Shift - Hold down to 'walk' (Always Dash is enabled by default)
Content Warnings:
Game currently features nudity, slime, yuri, F/F, soft vore (no digestion), tentacles, quicksand/mud, ryona, spider webbing, flesh wall, petrification, hypnosis, implied pregnancy and bondage.
Changelog:
changelog v0.4.0
v0.3.3c
On Map Encounters
Multi-stage perils
7 Game Over sequences for various monster types (5 normal enemies, 2 bosses)
174 total battle sprites across 17 peril types/enemies!
3 Areas with 1 WIP Area.
Developer Notes
:
Future Plans
Additional Areas covering more perils in the form of battle sprites/game overs.
Adding On-Map effects that can cause peril as well.
Replace placeholder/default assets with custom art/sprites. A few examples can be seen but several maids still have default faces. Enemies may have new sprites in the future!
The demo is FREE; however, I've included the option to donate if you'd like to support the project. I'm the single developer/artist/programmer on this project and work on it in my free time. Gaining funds from this project isn't the goal but any support would be greatly appreciated! Thank you so much for stopping by and viewing/downloading my game.
DOWNLOAD
Win -
MEGA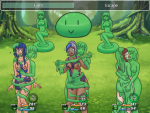 ​
Last edited by a moderator: