​
Developer:
GremlinShaman
Patreon

Version:
0.2i
Release Date:
2019-12-30
Last Updated:
2020-01-21
Censored:
No
OS:
Windows
Language:
English
Genre:
3DCG, 2D game, Female protagonist, Lesbian, Corruption, Mind control, Adventure
Overview:​
Nasty and totally amoral middle age lesbian weaves a web of intrigue by using the powerful magic of prehistoric civilizations in a small town of patriarchal and conservative manners. Try to find out if honest city residents can avoid its corrupting influence and get out of the trap of vice?!
Miss Cassandra inherits an old house in the small town Somville and comes to revise her new property. By the chance, she receives the gift of being immersed into the human consciousness ... as well as others, strange issues.
Changelog:
In v02.i

* New character Zoe and her quest part 1/N
* Mrs. Carlson 'home sessions' are fully redone. Now it's lineal and cost much less Psi Points to complete.
* Three new mini levels
* Two new spells
* Minor improvements

In v0.2fc

* Battle HUD with stamina and HP numbers
* Running now didn't cost stamina points (you can use 'Always Dash - On' option without any penalties)
* New spell: Big Fire Ball (choose it by using 'W' button)
* Spells descriptions now more informative
* Evasion rate for enemies rebalanced
* Knife as testing option for your last resort
Developer Notes
:
I'm trying to mixing different game play styles like arcade, exploration and adventure in one project.
DOWNLOAD
Win -
MEGA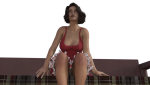 ​