Developer:
N_Taii
Patreon

Version:
1.0
Release Date:
2019-12-25
Last Updated:
2020-01-09
Censored:
No
OS:
Windows
Language:
English
Genre:
2DCG, 2D game, Male protagonist, Animated, Corruption, Ntr, Male domination, Vaginal sex, Virgin, Oral sex, Masturbation, Internal view, Cheating
Overview:​
The Bennet family is by all means a happy family. Mr. Bennet (the MC) has a sexy and loving wife whom he loves very much, and a beautiful daughter he cherishes as to the apple of his eyes.
Still, Mr. Bennet's picture of perfect happiness is clouded by a few issues: he hasn't had any sexual relationships with his wife in years due to his own medical problems, and he is having a hard time understanding his teenage daughter. However, he is hoping this year's Christmas is going to fix everything...
Long story short
: Get NTR'd by Santa, Get
SaNTR'd
!
Developer Notes
:
It should last players around 30-40 minutes of gameplay, with several sex scenes made with RPGM VX Ace's sprites. No grind, no puzzles, no needlessly large maps, just straight stumbling upon sex scenes as you play. The overall tone of the game is rather light-hearted for a NTR game. It was Christmas, after all!^^
DOWNLOAD
Win -
MEGA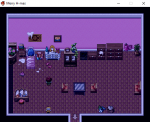 ​