​
Developer:
Lunasoft
mangagamer.com
-
DLsite
Version:
Final
Release Date:
2020-01-16
Last Updated:
2020-01-16
Censored:
No
OS:
Windows
Language:
English
System requirements (min):
CPU: Intel Core i5; RAM 4GB; VRAM 512MB; DirectX 11; HDD 600MB
Genre:
2DCG, 2D Game, Female protagonist, RPG, Fantasy, Animated, Big tits, Romance, Vaginal sex, Oral sex, Rape, Tentacles, Group sex, Loli, Voiced, Japanese game, Monster, Combat, Multiple penetration
Overview:​
Prepare for a world of fantasy, adventure, and horny monsters in Magic & Slash -Riru's Sexy Grand Adventure. This action RPG follows the journey of the apprentice adventurer, Riru.
Strange things are happening in Cain village. Overnight, a large forest grew on the road leading into the village. Not only that, vicious monsters have started living in the forest, causing the villagers to fear for their lives. Luis, a young man who runs an inn in Cain village, contacts his adventurer sister, Tanya, to investigate. Tanya then heads to the village with her apprentice, Riru.
Developer Notes
:
In Magic & Slash -Riru's Sexy Grand Adventure-, there are plenty of items to gather, such as powerful items and weapons along with special outfits that you can make your characters wear. While fighting enemies in this hack and slash adventure, you can arrange Riru's skills and equipment to fit your playstyle. As Riru takes damage, her clothes will get torn and ripped until there is hardly any fabric left.

This game has all the elements you've come to expect from Lunasoft, including achievements and hellish difficulty levels! However, we've included an easy mode for those who find the game too difficult, or aren't good at action RPGs.
Characters:
Riru

The main protagonist. She has been training under Tanya as an apprentice adventurer.
She's blessed with great talent for both swordsmanship and magic. Even Tanya, a veteran adventurer, claims she possesses the kind of potential seen only once a century.
Though she's a little timid and doesn't yet acknowledge her own talents, she dreams of one day becoming a full-fledged adventurer.
Tanya
A veteran adventurer who has traveled the world after leaving her hometown of Cain Village.
After receiving word from her younger brother, Luis, she returns to her hometown with her apprentice Riru in hopes of resolving the crisis befalling her village. However, she ends up leaving all of the actual investigation up to Riru, instead spending her days lazing about her family's inn. She also has a taste for liquor, so she gets drunk regularly and ends up bothering Luis or Riru nearly every night.
Sophie
Luis's childhood friend. She's a bright, spunky girl who runs the "Sweetroll Shop", the general store in Cain Village, alongside her grandmother.
Her shop sells potions and other adventuring items Riru requires.
Mimi
Tanya's best friend.
She's a scholar with a wealth of knowledge about the magic in their world, though for some reason she's unable to use it herself. As a result, she focuses her efforts on analyzing the information Riru and Tanya gain while exploring.
She's always expressionless and calm, rarely ever saying much about herself.
DOWNLOAD
Win (64) -
MEGA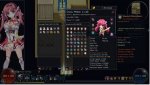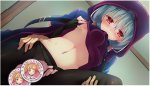 ​