​
Developer:
Clear Mana Plum
DLsite

Version:
Final
Release Date:
Japanese 2017-06-27, English 2020-01-03
Last Updated:
2020-01-05
Censored:
Yes (Mosaics)
OS:
Windows
Language:
English (MTL)
Translation
: Supreme Squidward (99%)
Genre:
2DCG, 2D game, Censored, Japanese game, Female protagonist, Rape, Turn based combat, Ahegao, Oral sex, Vaginal sex, Big ass, Big tits, Vore, Petrification
Overview:​
La Perugia. A beautiful island where humans and demons coexist and rich nature remains. An unexpected incident suddenly came to La Perugia. Some monsters have become violent and have begun to destroy nature.
A number of adventurers have risen to save La Perzia. The main character, Enosera, is one of those courageous adventurers.
Can Enosera and her group save the island ...?!?
Installation
:
1. You need to change system locale to Japanese or use Locale Emulator.
2. Extract and run.
Developer Notes
:
[Game content]
This work is an adventure RPG with a conversation part as the main.
There are battle and growth factors, but it is a simple system.
The message high-speed skip function and the simple auto mode are carried.

[H scene]
The H scene of this work has petrified & ahegao face in all scenes.
Petrification play in various situations is waiting for the heroine.

* Almost all scenes will eventually be petrified.
* The H scene has a dark taste, but the main game is a bright story.

[Specification]
HCG number: 7 basic CG + difference
H scenes: 7 scenes
Estimated play time: 1 hour to 1 hour 30 minutes
DOWNLOAD
Win -
MEGA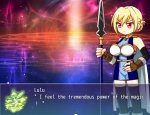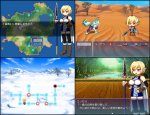 ​