​
Original Title
: 蒼黒の月
Developer & Publisher
: Moon Parrot
VNDB
Translation
: Lavender Cross
VNDB
Version:
Final

Thread Updated:
2020-10-16
Release Date:
Japanese 2001-05-18, English 2004-07-28
Censored:
Yes/Mosaics
OS:
Windows
Language:
English
Length
: Medium (10 - 30 hours)
Genre:
2DCG, Male protagonist, Japanese game, Multiple endings, Fantasy, Gay, Romance, Censored, Teasing, Groping, Rape, Anal sex
Overview:
Kuro no Tsuki tells the story of two royal brothers, Roland and Altraud. A sudden change in the once-kind Roland brings about the downfall of their kingdom and a hurt Altraud, having lost everything, begins the search to find out why. Could the Black Kingdom, having been vanquished centuries ago, be pulling the strings?​
Installation:
1. You need to change locale to Japanese.
2. Extract and run.
DOWNLOAD
Win: MEGA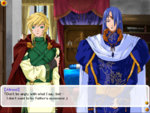 ​