Tech Devil
Administrators
​
Developer:
TinkeringTurian -
Patreon
-
Website
-
BuyMeACoffee
-
Discord
Version:
2.62
Release Date:
2020-08-24
Last Updated:
2020-08-25
Censored:
No
OS:
Windows, Linux, Mac
Language:
English
Word Count
: 750 000+
Genre:
Text based, 2DCG, Female protagonist, Male protagonist, Multiple endings, Furry, Rape, Gay, Lesbian, Humiliation, Prostitution, Slave, Virgin, Vaginal sex, Anal sex, Oral sex, Group sex, Blackmail, Masturbation, Tentacles, Spanking, Urination, Voyeurism, Adventure, Fantasy, Graphic violence
Overview:​
Kobold Adventure is an adult, text-based choose your own adventure game. You assume the role of a kobold thief aspiring to be a knight, in a medieval fantasy world where just about everyone hates kobolds. After stealing a considerable amount of gold from a crooked tax collection transport, a whole world of possibilities opens up to you. Will you end up being enslaved, or will you make a name for yourself? Will you find love, or will you end up dead in a gutter? You decide.
Installation
:
Windows:
1. Extract.
2. Run the .bat file. This will start a local web server, and open the game in your web browser. Don't forget to close the command line window when you're done playing!
Everything else:
1. Install
node.js
.
2. Use node.js to run server.js. The game should open in your browser. Terminate the running server process when you're done.
Alternatively, you can also
play the game online
.
Changelog:
2.62
-Breeding Barn Breakin voyeurism
-More Footsie's Boyfriend content
-Buttstuff with Fenrir
-Varanar, Noon Four, the church
-Varanar, Afternoon Four, the dungeon
-A bunch of art for a bunch of things

2.61
-Gallery reworked
-A lot of new art
-More Night Three (Footsie's Boyfriend route)
-More Breeding Barn Breakin

2.6
-Breeding Barn Breakin
-More Night Three
2.59
-More morning four.
-Emeraude's first content.
-Several new pieces of artwork.
2.58
-Morning Four lewd bits.
-Lots of art.
2.57
-Morning Four, Slave Market basic routes + lockpicking.
-More basilisk art.
2.56
-Night Three, Sleepytime.
-Art for Enslavement, Night One and Enslavement, Afternoon Two.
2.55
-You can now force Ruby into a deeper kiss, with three variations depending on your charisma.
2.54
-You can now masturbate while getting Ruby to either praise you, or degrade herself, depending on your charisma.
2.53
-You can now wake up after passing out in the river, and end up getting stuck butt-first through a sewage pipe.
2.52
-Two more conclusions to the Ten Paw Gang six-way fuckfest.
2.51
-The nonconsensual conclusion to the Ten Paw Gang six-way, along with the rest of the foreplay.
2.50
-Build-up to the Ten Paw Gang six-way, up to the kink choice segment.
Developer Notes
:
Downloadable versions will always lack the latest hotfixes and typo corrections.
Playing the game online
is highly recommended. In terms of browsers, Chrome and Firefox are both supported, but Chrome will generally offer prettier results. Click the easy-to-miss menu button in the bottom left corner of the game's UI for a bunch of important stuff, including settings and character sheets and a massive map showing almost all of the available choices in the game. Music is enabled, but muted by default. Click the crossed out speaker icon in the bottom left to unmute it. Saves are kept in localstorage, so if you wipe your browser data, you lose your progress. You can export save games, and store them as files, to make sure you won't lose anything apart from milestone progress.
DOWNLOAD
All -
AnonFiles
ONLINE
MAP
-
CHARACTER SHEETS
-
FULL STORY VIEWER
-
GALLERY
-
FAN ART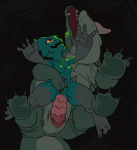 ​
Last edited: