​
Original Title
: 異種愛玩
Developer
: Cyclet
Website
Version:
Final
Thread Updated:
2020-08-19
Release Date:
Japanese 2013-07-26, English 2019-08-21
Censored:
Yes/Mosaics
OS:
Windows
Language:
English
Voices
: Japanese
Length
: Short (2 - 10 hours)
Genre:
2DCG, Japanese game, Voiced, Censored, Female protagonist, Bestiality, Pregnancy, Vaginal sex, Oral sex, Titfuck, Creampie, School setting, Anal sex, Group sex, Big tits, Monster, Masturbation, Lactation, Teasing, Handjob
Overview:
Best game. Enough said.
"Mutsuki Gakuen" – A student of that school, "Yoyo Hanahana" (Yanoyo Unohana) saw an incredible thing. Classmate "Yukihime Samejima" witnesses where she was in contact with a big creature.

Unbelievable big creatures- the appearance of Aoihime panting with a face that I can not usually show- Yayoi is engulfed in such a different situation.

Yayoi who regained sanity to the voice of the princess Hime who culminated at the height escapes from the spot. Later, Yayoi can talk to Himehime.

Yuhime, who had noticed that she was "watched", said she wanted to cooperate.

I'd like to be a partner for "special pet animals" just like me ...
Installation:
1. You need to change system locale to Japanese.
2. "Install the included font, pm2fixed.tff. Use nnnconfig2.exe to set pm2fixed (NOT @pm2fixed) as the default font, by clicking on the tab on the right, then going down to the font drop-down menu. pm2fixed should be at the very bottom."
3. Run isyuaigan.exe
Translator Notes
:
Known Issues:
"The backlog is currently unhackable with our currently knowledge of the engine. The current backlog is a workaround (my thanks to Jack yet again for this)."
"Due to character limitations, a few lines had to be slightly rewritten, rephrased, or shuffled around, in order to make sure they'd fit in the box. As such, the translation for those lines is less accurate than I would like."
"Additionally, when testing the game, it sometimes would hang up and refuse to progress to the next line. This happened fairly infrequently, but did happen. The only way to 'fix' this, as far as I could discover, was to close and re-open the game. As such, make sure you save often so you don't lose too much progress."
DOWNLOAD
Win:
MEGA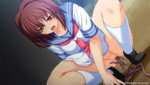 ​