Tech Devil
Administrators
​
Developer:
3 Mad Triangles Software -
Patreon
Version
: 0.5.1
Release Date:
2019-06-04
Last Updated:
2020-02-14
Censored:
No
OS:
Windows
Language:
English
System requirements (min):
CPU: Pentium4 2.0 GHz; RAM: 1 GB; VRAM: 128 MB;
Genre:
2DCG, Animated, Adventure, Male Protagonist, Creampie, Vaginal sex, Handjob, Oral sex
Overview:​
Hot 'N' Juicy: Between Two Buns, is a visual novel about working in a restaurant and dating girls. Our intention is to create an engaging story with great visuals and a large number of different endings and story paths. This is an 18+ game with H-scenes and adult content.
Changelog:
v0.4.1
General changes:
- Fixed several typos
- Added replay functionality to the game so all H-Scenes can be unlocked and easily replayed
- Added credits page to main menu
- Adjusted fade-in time for many elements to improve the feel of the game (reducing sluggishness)
v0.4
Patti's Route:
- Has been added to the game!
- This route adds:
- 5 new conversations
- An animated H-Scene and a cumshot

General changes:
- Fixed minor text issues
- Added skip option to main menu
- Changed title screen
- Back-end: Adjusted some variables to make new features easier to add
v0.3 Demo
Pandora's Route:
- Pandora's first H-Scene is now animated
- H-Scene now includes a cumshot

Priyanka's Route:
- Has been added to the game!
- This route adds:
- 5 new conversations
- An intro scene
- An animated H-Scene and a cumshot

General changes:
- Fixed minor text issues
- Changed to a windowed export on Mac and Windows versions to resolve scaling issues (let us know if this seems improved)
v0.23 Demo
In this version you can build up a relationship with:
– Pandora, the girl with black and purple hair
– Penelope, the redheaded girl

This demo adds:
– Days/the passing of time
– Interviews and new story content
– 3 new scenes (2 new h-scenes)
– 1 new song
– Heart meters for the girls
– The option to skip the intro if you've seen it
DOWNLOAD
Win -
MEGA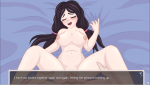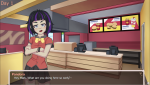 ​
Last edited: