​
Developer:
Hilzartov (Mformental) -
Website
Version:
1.1.0 Final Release
Release Date:
2020-02-13
Last Updated:
2020-03-28
Censored:
No
OS:
Windows
Language:
English
Voices
: English
Store
:
Nutaku
Genre:
2DCG, Male protagonist, Adventure, Kinetic novel, Monster girl, Fairy, Animated, Fantasy, Uncensored, Creampie, Voiced, Licking, Squirting,
Overview:​
A fairy has moved into your home to protect something special growing in your garden.
Her name is Isabella and she is here to protect the sacred rainbow fruit; and to do that she will need your help.
Give her a tour of your home and get to know her and perhaps your relationship with her will go to the next level.
Learn more about her and the realm she comes from and take care of her needs as they arise.
She has a spunky personality but is very kind at heart. Help her defeat the evil goblins who are after the rainbow fruit and you will unlock sex scenes.
Despite her size she is a very capable lover, and will do her very best to please you. From oral sex to full penetration she will love being with you.
In this kinetic novel you'll experience what it's like to get closer to and have intimate relations with a pint sized fairy!
You'll also put your skills to the test fighting evil goblins that are up to no good with arcade style levels!
This game includes thirteen frame by frame animated scenes and a fully voiced female fairy! This is a fully uncensored game!
Developer Notes
:
In Hilzartov Fairy, you take on the role of the typical "wish fulfilment" hentai protagonist in that you live by yourself in what appears to be a rather nice and well-equipped house, never have to go to work and even have a rather pleasant garden.

In your garden, some strange rainbow-coloured berries are growing where you thought you planted some strawberries. Since they're doing no harm and they're quite pretty, you've just left them growing there — you can always clean them up if you need the space later, after all.

It's a good job you did that, it seems, because one morning you're awakened by a little fairy named Isabella, who informs you that the fairy realm is on the verge of a crisis, and those strange berries you have growing in your garden absolutely must be protected at all cost. And by the way, she's moving into your house temporarily; also she's totally real, why don't you touch her until she makes provocative noises just to prove it?
DOWNLOAD
Win -
MEGA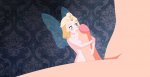 ​