​
Developer:
NoodleJacuzzi:
Website
-
Patreon
-
TFgames
-
Discord Server
CryptoGreek:
Reddit
Version:
11
Release Date:
2020-06-20
Last Updated:
2020-06-20
Censored:
Yes
OS:
Windows, Linux, Mac, Android
Language:
English
Genre:
2DCG, Text-based, Male protagonist, School setting, Censored, Mobile game, Anal sex, Creampie, Gay, Handjob, Male domination, Masturbation, Milf, Oral sex, Prostitution, Sex toys, Sissification, Spanking, Titfuck, Trap, Vaginal sex, Mind control, Big tits, Big ass
Overview:​
Hentai University follows you, a hypnotist recently employed as a student-councilor for the local university, going around the town and getting sexually involved with people from both the university itself and the surrounding town. The characters are taken from CG sets by artists like Oreteki18kin, Nagi Ichi, and Enomshima Iki. This game can be played in-browser and does include a mobile version.
The game is currently unfinished, but there is still a good amount of content to unlock. Any feedback you can provide is appreciated!
You can find an up-to-date list of the game's cheat codes
here
.
Changelog:
v11 - Gee Noodle! How Come Your Schedule Lets You Add Two New Characters?
--- New Content
- New Character - Sofia Rossi with both her A and B route complete totalling 11 new lewd scenes
- New Character - Lily with 3 scenes
- 2 New scenes for Gou
- 1 New scene for Sam
- 1 New scene for Lena, 1 New scene of Anna & Lena together

--- Other Changes
- Lily's shop in the shopping district allows for alternative ways to use cheats for money, also allowing you to corrupt Madison and Sofia without the need to have corrupted other characters.
- New cheat code: no disguise - Removes the disguise placed on your dialogue image during Sofia's scenes.
- After the mission with Meph Gou will no longer ask you about hunting down more bois. You can now also go after Ash to progress with Gou.
- Changed how Gou's corruption skill works, don't worry about your succubi (men) sleeping around. You'll need to talk to him again about corruption to unlock sam's new scene.

--- Bugfixes and Typos
- Another massive batch of typos were found by OrangeMaestro, incredible work!
- Added logbook entries for many characters who were missing one, like Ash and Madison
- Fixed Madison repeating herself when you introduce her to Mary, Lana, or Sam.
- Added proper artist credit to a few images in Madison's scenes that were missing them, and added an automatic artist crediting based on the character's listed artist in case it happens again.
- The load from .noodle file button now properly works even if you select the same file twice in a row.
v10
--- New Content
- New character - Ash Martin, with 5 scenes (1 lewd event)
- 6 new scenes for Steph Black (3 lewd events)
- 3 new scenes for the demon boi Meph (all of them lewd)
- 1 new scene for Madison Moore (corrupting Abigail)

--- Other Changes
- You can now reset your progress with characters via the new name cheat. This is an in-progress feature, notably it doesn't work with Steph and probably some other characters. Feel free to send your save data to me or cryptogreek on discord if you're having save file issues.
- You can now introduce Madison to Steph and Reese to progress with her.

--- Bugfixes and Typos
- More than 50 typos were found by the fantastic OrangeMaestro, incredible work!
- Reduced Justine's trust requirement allowing you to bring her up to Madison, it won't help though.
- Fixed a bug that would soft-lock your progress with Amy
- Fixed a bug that was appending garbage when saving to text strings
- Fixed a bug that was preventing players from changing character names
v9.5
- Madison, The Student Council President
--- New Content
- A New character: Madison - At 5k words she adds 2-3 lewd scenes and about 8 depending on your definition non lewd setup scenes. You'll need a counseling score of 9 or higher to convince Victoria to let you in on what will essentially be the main plot of the game and gain access to Madison.
--- Other Changes
- Saving to a string now automatically copies the saedata to your clipboard.
--- Bugfixes and Typos
- Fixed a bug where you could get stuck in the Dream Casino.
- Fixed a bug where characters would appear on the town map screen without the find mii cheat being active.
- Fixed a bug where duplicates of Kelsey, Naomi, and Vanessa would be added to the save data. Also fixed saves affected by the bug.
v9
--- New Content (some parts of this were written by Crypto):
- A new character has appeared from inside the Mystery Box (Female)! Having won the content poll, the dream-demon Sienna has appeared, becoming available to players with a high enough level of hypnosis. With art by Purple Haze, she has the ability to change her shape and uses it to take on the appearance of famous fictional characters. If you know Purple Haze and have a favorite character you'd like to see, make your voice known on the Discord! There's so many that choosing can be a bit difficult, though I'm definitely going to add Yoruichi... Now, Sienna currently has a fairly large amount of dialogue, as well as two sex scenes with each one having two options inside of it depending on how you want to lewd her. She adds in around 10000 words of content. -Crypto
- Reese got second-place in the poll, making him the target for more content - around ~5000-ish words of content, specifically. With a new encounter and a new sex scene (which is really three sex scenes in a trenchcoat), he's now much closer to being finished, including asking him about his plans for the future... He also mentions some sort of meeting coming up involving other characters. I wonder what that could be about... - Crypto
- The latest scenes written by author SlackerSavior have been added to the game, featuring a scene each for Vanessa, Naomi, and Kelsey. Drop on in to the discord if you enjoyed them, it'd make slacker's day to hear that one of his characters is your favorite. As always though I'll send him any thoughts you guys post here. - Noodle

--- Bugfixes
- Fixed a bug that was causing Anri's dialogue to get cut off a bit early in a scene.
- Tia, Emma and Cassandra no longer say they have no content in the logbook.
- The town map should no longer appear in the dream beach.
- Fixed some typos

--- Other Changes:

- New cheat: find mii - All encounters you meet the requirements for will appear on the town map in addition to their usual spots.
- Slacker's characters have all been added to the game by default, no more needing to load a mod.
- A list of the game's authors has been added to the credits. One feature I have planned is to show the author of the current scene in the side menu during gameplay.
- A number of placeholders for upcoming characters have been added to the save data, they'll appear if you opt to rename the cast. No content for them yet though.
- Under the hood a very large amount of changes have been made, including making sure that texts won't be sent to you if you've received them in the past, and you won't get new texts if you have a current unread text. A new encounter system will allow for more flexibility in encounter design has been implemented as well (and the old system still works just fine). I'll be letting Crypto do most of the writing for v10 as well so that I have time to overhaul the modding tutorial.
v8
New Content:
- New scenes for Cassandra and Emma Hamilton, taking them from no scenes to finished, involving Cassandra tempting you with other characters if you've already met and progressed at least a little with them. These characters are: Emily, Mary & Margaret, Steph, Tia, and Victoria.
- 5 new scenes for Tia Sun, culminating in her hypnosis-route ending.
- 2 new scenes for Anri Ramona the femboi-maid. Each scene has two outcomes totaling in 7.5k words.
- The mod characters by SlackerSavior are now included with the game. Head over to the game console, click load mod character, then type in coach to load his characters into the game. Only Zoe and Amy have content but hoo boy do they have a lot of it.

--- Bugfixes
- Added a transparent jogging outfit for Tia in the persona style.

--- Other Changes:
- I did not have a chance to get Master of Puppets/Wild Bill's window backdrops or the save to / load from file system working. Soon, I promise!
v7
- 7 new scenes for Mary and Margaret, continuing directly from where I left off in v1 and continuing right to their first ending.
- 2 new scenes for Meph, also continuing from where we last left him. You'll find him in the shopping district.
- 4 new scenes for Lena the maid. Crypto's layout is a little convoluted, but you should be able to get them by meeting her on odd-numbered days in the shopping district.

- Bugfixes

- Fixed a bug where Anri wasn't appearing for new players
- Fixed a bug where reshooting one of Lana's pornos would overwrite another porno's name
- Fixed a bug where the leotard wasn't being removed properly from your inventory
- Fixed a bunch of misgenderings that Wild Bill and Strijoca found, lemme know if there are any more!

- Other Changes:

- Added a new pronoun system where prefixing a word with an apostrophy should replace it with the properly gendered version. *he becomes he or she depending on the player's gender. The old system still works, but this should make it easier for mod writers.
v6
--- New Content:
- New Character: Anri Ramona - A maid (male) written by Cryptogreek using art by Kinta no Mousou. You can find a flier advertising maid services in the streets. Anri costs money to hire each time, but hopefully crypto's track record proves it'll be worth the price.
- New scenes for Gou: He rewards you for getting lewd with Anri, which then leads into a whole bunch of new scenes afterwards.
- New Character: Meph - A demon a few rungs higher on the ladder than your familiar. You'll need to be rewarded at least three times by Gou in order to meet him.
- New Character: Justine Walton - The university's school nurse, written by me using art by Oreteki18ikin. She's got a certain interest in you, spend some time with her to get her to open up and you'll have an eccentric alchemist on your side.
- New scenes for Lana: A third porno to shoot has been added! Andrea's sitting this one out but she's called dibs on you for the next shoot.
I won't go into specifics on the amount of images / scenes added here, but I'll be frank and say there's a lot. This is probably the largest single batch of content I've added to any of my games in a single update.

--- Bugfixes
- Fixed a bug where the town map would send you to the wrong location.
- Fixed a bug where telling Lana to give up on her dreams would break the game.
- Not technically a bugfix, but I've removed a lot of unused code in the .css file and organized it a bit. It's still a mess, but it's progress.

--- Other Changes:
- Direct links to artist pixiv pages have been added on the title screen and in the credits after each ending. I'm proud of my code and my & crypto's writing, but if you like this game specifically for its images I recommend looking into the artists whose works you love. I'm not terribly educated on the inner workings of pixiv, but it's worth looking into each artist's fanbox if you're interested in supporting them.
- You can now reshoot Lana's debut video. It doesn't make a ton of sense consistency-wise, but it's more for your convenience than anything else.
- The vegetarian cheat has been updated to remove Anri in addition to Sam, Reese, and Gou. If you aren't interested in trap stuff you'll want to use the cheat again to remove the maid (male) from the game.
- New cheat: Lobotomy - Changes the game's visual style to one I'm more comfortable reading with a larger font, stronger menu buttons, and frames that pop a bit more. Loosely based on Lobotomy Corporation in design.
- New cheat: Persona - Changes the game's visual style to one based on the Persona games, specifically Persona 5. Lemme know if it's too much, or if it's not enough.
- New cheat: Royalty- A work in progress visual style based on the vaporwave aesthetic, only the dialogue boxes are changed but I think they look pretty cool.
v5.5
v5
+ New scenes for Sam
+ New scenes for Anna & Lena
+ New character: Gou (you can find them in the streets in the evening)
+ New cheat code: oowoo (do not uwuse)
+ Finally fixed the bug with steph
+ Some CSS changes
v4
+ New Character: Lana cummings
+ New scenes for Tia
+ New scenes for Reese
+ Fixed mobile version slowdown
+ Under the hood fixes for modding
v3.0
New Scenes:
- 3 new events for Steph
- 1 new event for Reese
- 1 new event for Anna
- Tia is in the game, she lives(?) in the computer lab. She and Casandra now have scenes dedicated to them improving your skills, but have no erotic content yet.
Hentai University has longer scenes and many more scenes that aren't explicitly erotic, so it seems smaller than an update for something like Anomaly Vault. All of the new encounters total up to about 1400 lines of code.

Bugfixes / other changes:
- Mod support! The entire engine was rebuilt to accomodate this. I probably fixed and created many bugs along the way. Scenes, logbook details, shop items, and etc are all kept in individual .js files now and are called as needed.
- The mobile version now uses the game's new CSS by Stiggy. Something is causing slowdown on the online mobile version on my phone, I'm looking into that.
- Many more cheats, such as one disabling the appearance of trap characters like Sam and Reese.
- Working on a ghost hunting minigame for your phone. It's activated via a cheat for now, but will be purchasable in the shop in the next update and have a lot more polish.
- The background now changes in the title screen instead of being a drab grey
- Fixed a bug where Victoria would let you report on Steph and Mary without actually speaking to them.
- Fixed a bug where Margaret would call you a man when you aren't.
v2.5
- Various bugfixes
- New CSS
- Steph's texts
v2.0
- 4 new characters with sexual content were implemented:
- - Steph Black, art by Enoshima Iki, with 3 scenes
- - Reese Kieran, art by Nagi Ichi, with 4 scenes
- - Lena Rogers, art Oreteki18kin, with 1 scene
- - Anna Fletcher, art Oreteki18kin, with 1 scene
- A total of 9 sex scenes were added
- 4 new characters with no current sexual content were added:
- - Victoria Devons, art by Oreteki18kin
- - Lisa Jones, art by Oreteki18kin
- - Cassandra Hamilton, art by Enoshima Iki
- - Emma Hamilton, art by Enoshima Iki
- Bugfixes:
-- The gallery was fixed and can now be used to view previously-seen scenes
-- The screen now scrolls to the top of the page at the start of an encounter
-- Money is now actually being added every payday instead of displaying a false message
v1.0
- 4 new characters were implemented:
-- Emily Smith, art by Enoshima Iki, with 2 scenes
-- Sam White, art by Nagi Ichi, with 5 scenes
-- Mary Williams, art by Oreteki18kin, with 3 scenes
-- Margaret Williams, art by Oreteki18kin, with 1 scene
- A total of 11 sex scenes were added
DOWNLOAD
All -
MEGA
Update v10 to v11
MEGA
ONLINE
- MOBILE ONLINE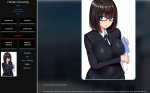 ​
Last edited by a moderator: