Tech Devil
Administrators
​
Developer:
Davie Zwei -
Patreon
-
TFGames
-
SubscribeStar
-
Discord
-
Website
Version:
0.4g2
Release Date:
2020-06-07
Last Updated:
2020-06-15
Censored:
No
OS:
Windows, Mac, Linux, Android
Language:
English
Genre:
3DCG, Female protagonist, Transformation, Male protagonist, Oral sex, Monster, Monster girl, Prostitution, Handjob, Footjob, Fantasy, Masturbation, Trap, Futa, Titfuck, Animated, Gay, Mobile game, Lesbian, Footjob, Bukkake, Vaginal sex, Groping, Teasing, Creampie, Futa protagonist, Humiliation
Overview:​
Upon taking up the opportunity to join the brand-spanking-new expansion to the super-popular MMORPG
Powerful Order Online
as a beta-tester, you find yourself locked into the very odd (and apparently
exclusive?
) class of
Healslut
. Just how will you handle the power... and consequences?
Changelog:
v0.4g2
Extended decisions on how to handle the murder non-mystery
Maybe get pregnant? (Ends early for now, this is currently what I'm working on)
Another way to the early ends in 0,4G
Meetup with Pirate Lel or another Lel
Consequences to blaming Roopah teased
Can how offer Wejit relief after the investigation
Anyone notice the new stuff sprinkled in early in the game?
v0.4g
I suppose I'd call this more of a 'cinematic' release than anything else. Most of my focus went to the ends to your adventure. I don't want simple 'game over' screens for any choices. I need the endings to be meaningful (and hopefully impactful).
I had hoped to have the 'preggo' path in as well but I chopped that out of this one because I'm still working on it. It'll be out in a patch once I am happy with it. I also have a big chunk of the 'blame Roopah' path already done so I will patch that in as well. So please forgive me for now for the abrupt 'end of beta' cuts on those choices. I'll have them out as quickly as I can.
Changelog:
Many proportion fixes (still in work)
All character renders have been touched-up and/or re-rendered
Several scenes have been updated and/or added renders
A metric poopton of typos and grammar errors corrected
Nudity aboard the ship received more attention
"Mention of mushroom" bug with Swollwang fixed
"Barf it up" bug/loop with Lel fixed
After Gab visit bug with Panki instead of Champ/Twig fixed
Non-"suppress suffering" spells in customs office bug fixed
Fairy chub/slim mixup after Gab convo fixed
Small bugs with fishing mini-game fixed
Roopah now acts more consistent if Sparkle snubs her
Murder- (non)mystery solved, accusing the perpetrator, and deciding consequences *Consequences may include pregnancy or death.
Two possible endings to your story...

HINT: You are not at the end unless you are at the menu screen.

Scheduled to be included in patch next weekend:
Fix for sudden 'un-fairy' in non-free-use path
Preggers path/end?
Blame Roopah route
Lel's piratey favor

Statistics:
The game contains 17,950 dialogue blocks, containing 160,695 words and 866,532 characters, for an average of 9.0 words and 48 characters per block.
v0.4e
The 'sticky' question that Gab asks can be reset by starting a new game (which clears the flag) and then reloading your save before the question is asked.
Bugfix for trap with Panki+Lel - will need to load a save before telling Panki you messed around with Lel for this one. Sorry!
Bugfix for the loop with Gab/Lel/Kayden. You will probably need to load a save before going into the corner. Sorry again.
Sexytimes with Roopah (requires previous sexytimes with her)
An introduction to a murder mystery
Can now switch body types on the fly in the main menu so you can try out scenes in different bods. May cause weird issues if you do it mid-scene, so I suggest doing it before a new scene starts (i.e. pretty much anywhere before the background changes)
v0.4d
Dealing with Commander Sergeant Orlando Commando
A reunion with the greasy people
Escape to sail the high seas
Dance for Harmony (if promised it)
Panki +/- Lel sexytimes / Lel snuggletimes
v0.4c
Kayden now more convincing on accepting 'free use'
Confrontation with Roopah
'Free use' path now for all body types
One 'free use' training table done, two to go
An enlightening out-of-this-world interruption
Dinner
Danger
Dingalings
v0.4b2
This update contains content addition for the 'free-use' route that Sparkle can agree to while serving as 'loot puppy' and therefore will only appeal to those interested in those paths and activities. But worry not, the next big update will include more comprehensive content for the various dominant and submissive paths!
A chat with Roopah about your place in the group
[All the following require the 'free use' path]
Panki becoming a bit overly eager about your new duties
Servicing Champ
An intro to 'training' (setup for next update)
Servicing Roopah
v0.4b
Catfight betwixt Panki and Roopah (depends on your relationships)
Getting a "sidequest" down to the south docks with your choice of Lel, Harmony, Wejit, or Ooyum
Choosing how to deal with a 'fishy' situation (more content for Suppress Suffering and more than that for Fairy Form)
Lots of typos and some logic issues fixed
And night 2 with Kayden now available! (Finally, right?)
v0.4a
Finally somewhat of a variable organization and standardization
Directory restructuring (made a real mess, please report bugs!)
New possible starting outfit (alternative to looty outfit, disconnect and file the "short" bug report instead of the long report)
Now a 33% easier to convince Leigh to rejoin the group
Fixes for permitting Lel to fight in all variations of the group reunion scene
Roopah being Roopah... (and I'll be the one blamed for it!)
Possible semi-public shenanigans with Roopah (non-futa only)
Possible provocative prospect with Panki
Dealing with some bandits
Dealing with a situation that comes from dealing with some bandits (requires that Lel has been allowed to fight)
Lel gets bossy?
Slowly sinking deeper into the murky mire of being a loot puppy (if on that route)
v0.3b
This is a
Lel-focused
update. If you don't care about Lel or if you are not interested in getting her back in the group, this release is going to seem lacking in content for you. It would probably be best if you skipped it if you have zero interest in Lel or her story.
Loads of bugs fixed with the 'nerdette' IRL start/story.
Looter outfit properly assigned after second night if agreed to share duties (will require loading a save previous to leaving the room in the morning).
Lots of new renders! I don't know. Lel in a fishnet bodysuit so...?
Loads of dialog and stuff. Act 7 had to be split into three files so I could keep track! (That either means I'm dumb or there's a lot going on.)
Funtimes with Lel very probable and three routes to take after rescue/being-rescued.
May get an undescribed error in Ren'Py with your most recent save (no description given so I can't track it down). Apologies. Please load an earlier save.
v0.3a
More mysteries, more hints, more character building!
UI has had some basic updates
Play the game as either a nerd or nerdette IRL (requires restart for female option)
Possible sexytime tryst with Ooyum
Possibly "cheating" on Panki OR an "arrangement" with Panki
Completion of Act6 (except staying the night with Kayden, not done yet)
Possibly waking up to what I think may be a huge surprise...
Meeting your class trainer...?
Choosing one of three new spells AND one of three new passive abilities (not impactful yet but I have A LOT of fun plans for these...)
Option to try to convince (or not) Leigh to rejoin the group
Option to head back into the dungeon to get Lel (to the halfway point)
~30 new images and 4 new music loops
v0.2f
~850 new lines
25 new renders
Sexytimes with Champ
Sexytimes with Twig
v0.2e(r1)
[r1 means revision 1 where a big bug was fixed from the original 0.2e]
Sexytimes with Roopah
17 new renders, several new SE/BG/ambient sounds
~400 new lines of dialog/code for Roopah, ~100 for others
Proportion fixes for a few character renders
The option of rewarding Wejit for his service
v0.2d
Deciding if you will ditch Wejit (you heartless prick)
Getting back to town through a rainstorm
Surprise visit from someone or someone else
An abrupt and revealing discussion with Wendy
A pleasant* chit-chat with a very drunk Kayden (*pleasantry definitely not guaranteed)
Dealing with the mushroom situation (if you do owe the funky fungus)
Sheduction and shexytimesh with Panki and an evil(?) decision
v0.2c
~1650 new lines of code/dialog
30 new renders
15 new sound effects
9 new musics/loops
Meeting your IRL neighbors
Dealing with an over-friendly lesbian
Losing all your loot
Meeting new Gobbos (and one's a girl!) and an oddly intelluctual Troll
What's happened to Wejit?
Getting a new outfit
News on the rest of the crew
What's up with Lel? (If there is a Lel, anyway)
v0.2b
30 new renders (3 backgrounds, 3 gallery images, 12 for the MC, 8 for mobs, 4 for other gamers)
3 new music loops, 15 new sound effects, 1 new spell effect (and 1 updated)
New possible very magicianical MC outfit for those with Looty Booty token (you'll have to load a save before the shop)
A battle with Skelemans and a decision on how to help
Possibly a decision about who becomes the new loot bitch (if Lel is dead)
Possibly getting slimed (must owe the mushroom!) and what to do about a cave baby... may involve some dancing
Getting past a tollway, meeting two new people, deciding who you like
A boss fight that ends in disaster?!
v0.2a
New/updated renders for every character to correct proportion issues, standardize heights, adjust lighting, and fix some odd poses.
Getting pizza or choosing between two places to go for food.
Finding a mysterious package by your apartment door.
Meeting one of three people (depending on your food choice).
An interesting visit with a client support administrator in her virtual office.
Returning to the 'morning after' inside the game.
Testing the strengths and limitations of your Healslut abilities.
Kayden being a badass, Wejit's views on the Goblin afterlife, and Lel wearing impractical but also practical adventuring attire.
Intro to the first level of the dungeon.
Possibility of someone dying?!
Ends after Succubus fight, more coming soon!
v0.1e
Adjustments to music
Test voice-over for narration by volunteer Art Argent (feedback requested)
Several additions and updates to gallery images (Roopah stuff, mainly)
Updates to a few outfit renders
Animations for being nekkid and Roopah's... oral stuff (feedback requested)
A few changes to the alleyway scenes (more changes incoming)
Meeting the tavern owner and helping out Lel (or not)
The (sexual?) repercussions of choosing between the three roomie(s)
Back to IRL and deciding on dinner, end of 0.1e
v0.1d
(branch) Submitting a bug report
Wejit character development
Encounter with be-boobled Gorgon
Arrival in town
(branch) Sex acts in an alley
Meeting your party
Chatting with a selected group member
Visiting a shop, choosing a new outfit, buying gear for Wejit (optional)
Choosing who to bunk with for the night (abrupt end)
WARNING: There has been a rather large overhaul of the game structure. Saves from previous releases will not work for this version. You will have to start a new game or there will be strange bugs and broken scenes.





DOWNLOAD



Win/Linux

-

MEGA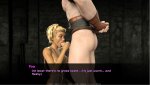 ​
Last edited: