​
Developer:
Viitgames
Patreon
- Discord
Version:
0.98.2 Pre-Patched
Release Date:
2021-01-22
Last Updated:
2021-01-23
Censored:
No
OS:
Windows, Linux, Mac
Language:
English
Genre
:
3DCG, Male Protagonist, Animated, Cheating, Incest, Interracial, Twins, Humor, Romance, Spanking, Creampie, Handjob, Oral Sex, Handjob, Vaginal sex
Overview:​
You were excited at first, when you and your sister Haley found entry jobs at the same company and living together will certainly reduce the cost of moving to the city . She's your twin, and only two hours older than you and to her, that's enough to always break your balls but she's always been there for you. So, how much can you really complain.
Dev Notes
It's finished. We managed to deal with the animation issues. Hopefully it was worth it.
The story in this one is split into 2 completely different branches. One without Sandra and one with. So, if you're wondering where that, or the other scene is, It's on the other branch.
Android will be released a little later.
This is the first major branch in the game so far. There will be more in the future.
Also, we're trying to make a walkthrough. We think that will be ready next week.
That's it. Hope you enjoy it.
DOWNLOAD
Win/Lin -
MEGA
-
MIXDROP
-
UPLOADHAVEN
Mac -
MEGA -
MIXDROP
Incest Patch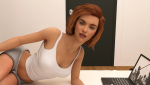 ​
Last edited by a moderator: