Tech Devil
Administrators
​
Developer: Team Guilty Force -
Patreon
-
DarkExecutor2
Version:
0.3
Release Date:
2019-10-26
Last Updated:
2020-02-16
Censored:
No
OS:
Windows
Language:
English
System requirements (min):
CPU: Dual Core 2.0GHz; RAM: 512MB;
Genre:
2DCG, 2D Game, Female Protagonist, Adventure, Lesbian, Sci-fi, Combat, Shooter, Side-Scroller, Anal sex, Oral sex, Vaginal sex, Group sex, Multiple Penetration
Overview:​
In a corp-controlled cyberpunk future, there is one group of women, one name that the corps fear: GUILTY FORCE
With an international team of veterans and talented newcomers, this 2.5D sci-fi/cyberpunk platformer focuses on the side-scrolling platforming action, multiple approaches in gameplay with a branching optional visual novel storyline that is sure to entertain with lively, unique and diverse cast of characters.
Guilty Force
is a blend of both classic western and anime influences that bring a fresh look to a familiar genre, inspired by media both new and classic, such as Deus Ex, Mass Effect and more! With sexy women and men alike to approach, extensive weapon options and optional depth,
Guilty Force
can become your new guilty pleasure! Play Kira and find her missing teammates while investigating Corporation Z and their private colony.
Changelog:
v0.3
56 animations
8 CGs
27 music tracks
Full changelog (0.215):
Features:
Stage 2 content available for the public;
The updated prologue with voiceover and auto-progress;
Fixed bugs/improvements:
Fixed a bug with losing mission completion data;
Fixed a bug with Caron's scene playing all the time when visiting her with proper affection level;
Fixed Fat Thug HCG not unlocking after completing Stage 2.1/2.2/2.3;
Fixed a couple of broken lines of the first conversation with Ming;
Decreased the volume of all click sounds for UI to make it more ear-friendly;
The frequency of some voice commands for enemies was decreased to avoid spamming with voice commands too often;
Decreased the intensity of some spotlights on Stage 1 to make it look equally on Low and Medium graphics quality;
Android: Fixed missing Stage 1.1/1.2 scheme sprites in intros;
Fixed some level geometry for Stage 2 missions and SpiderBot's stunning animation bug;
"Complete mission" button will remain in the cheats menu for possible rare emergency situations or crashes because it can help the player to repeat the walkthrough quickly.
0.13
Features:
5 new lewd animations, Sigolla decoy device, incendiary grenade;
Weapon customization: sights, extended mags, silencer, and other goodies. You will be able to find some spare parts for it on Stages 1.1 and 1.2;
New secondary characters are introduced: Joanna, Thomas, Mateo, Alonso, and Szymon;
New Z-chip upgrades: 2 active and 3 passive upgrades;
Full keyboard-only control support;
Xbox 360 gamepad support (Windows axis mapping);
You can toggle mobile mouse-only controls in Settings on PC/Mac/Linux platforms now. This feature was intended for Microsoft Surface and multi-touch, but some people who like to play with a mouse might find it useful, too.
Kira x Sigolla decoy device will be added to your inventory each time when you play sex scene with Sigolla;
Hold [Shift] to slide down faster when using the pipes;
Fixed bugs/improvements:
The lighting settings for all levels were modified to look brighter and providing a better look at low powered PCs and mobile devices;
The hacking minigame was fixed and the player can speed up the minigame by holding right movement key. The highest level of Hacking upgrade allows to slow down the minigame when you see fit;
Control map for keyboard, gamepad, and some information about the advanced movement was added to Settings->Help menu;
The short artificial delay was added for some action UI to avoid allowing the player to drag bodies faster than it was intended;
Clothing restoration item is no longer activated when having an undamaged suit;
Quick access panel bug with swapping activated skill for an item is fixed;
Android: fixed missing input issues for Stage 1.1 and Stage 1.2;
Other minor bug fixes.
ver. 0.11
Chinese (Traditional) localization (Early access-please proceed with caution! (currently only Traditional, but Simplified is in progress) )
New grenades: sleeping gas, poison gas, smoke, flashbang, EMP. Also there is a new, non-lethal tool for enemy distraction – small stones. The ballistics and damage dealing mechanics for HE grenade was improved. These tools provide more options for a stealthy or non-lethal/pacifist walkthrough;
Kira can grab and move bodies of stunned/dead enemies. She can also hide them in dark doorways to prevent detection; be aware! She moves slowly while dragging!
There is a new separate slider in Settings menu for male voice volume in sex scenes. The frequency of male voice effects appearance in sex scenes was reduced by 30%;
A bunch of different improvements in Stage 1 level design: more and better lit doorway locations, new terminals for hacking and disabling cameras, etc.;
+25% sprint speed;
-25% camera detection speed;
Hacking mini-game can now also be controlled by W/S keys, too, making it more convenient to play
Developer Notes
:
Controls:
WASD/Directional keys - movement & jump/crouch, hacking mini-game control;
Left/Right Shift - sprint;
Tab - character menu (Left Mouse Button - open item/upgrade menu);
Z - shoot; R - reload;
X, X/V - melee attack, execute/stun;
C + Directional keys - Aim and throw a grenade or another object;
E/Q - dragging bodies / interaction;
1..6 - quick access menu;
N - zoom (in-game);
Esc - pause menu
Cheats
:
click 3 times on Caron's boobs in main menu
Walkthrough Videos (PornHub)
DOWNLOAD
Win -
MEGA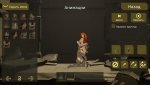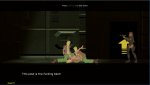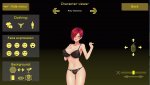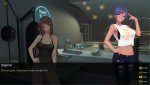 ​
Last edited: