Developer
: Innocent Grey -
Steam
-
JastUsa
Thread Updated
: 2020-12-18
Release Date
: 2020-07-31
Censored
: No
Version
: Final
OS
: Windows
Language
: English
Voiced:
Japanese
Genre
:
2dcg, female protagonist, lesbian, adventure, school setting, teasing, romance, no sexual content, japanese game, voiced, multiple endings
Overview:
Painfully shy Suoh enters an all-girls academy and, as spring unfurls, finds that love blossoms in the most unlikely of places.​
Installation
:
Changelog
:
Developer Notes
:
Flowers -Le volume sur printemps-
Story
In the middle of a forest isolated from the rest of the world lies Saint Angraecum Academy, an all-girls school. This private boarding school is isolated from the rest of the world, allowing the girls who attend the space and freedom to develop into young ladies under the guidance of their teachers. This is where Suoh Shirahane, a painfully shy girl, will begin her first year of high school. Follow her as she navigates new friendships and attempts to unravel the many mysteries at the academy, including occult rituals and the mysterious disappearance of fellow students, all while trying to pass her classes. Suoh must learn to overcome her anxieties as she navigates new friendships. These bonds of friendship grow even stronger within the academy's special Amitié program, and Suoh's heart will open for the first time. But is it okay to like a girl? Within the halls of Saint Angraecum Academy, spring warms into summer, as do Suoh's friendships until they too blossom into something much more.

Flowers -Le volume sur ete-
Story
Since the sudden disappearance of one of her Amitié partners at the end of spring, Suoh Shirahane has been left nursing a profound sadness. Though she tries to hide it, Suoh's pain does not go unnoticed by her close companion, Erika Yaegaki, who feels compelled to help her 'bookworm buddy' mend her broken heart.
In the midst of all this a new classmate, Chidori Takasaki, arrives, disrupting Erika's solitary lifestyle. To say that the two of them get off on the wrong foot would be an understatement, but Erika soon learns there's more to Chidori than meets the eye. Can friendship blossom between a sharp-tongued misanthrope and the haughty class diva?

Flowers -Le volume sur automne-
Story
Yuzuriha Yatsushiro, president of the school's Council of Nicaea, knows the truth hidden within the school. The silver-haired beauty seeks to prevent Suoh from reaching it by giving her what seems like an impossible task—take over the role of president and she'll hand over the key to what she desires. However, Yuzuriha is harboring her own secret, buried deep within herself... As the leaves turn and strange incidents continue to plague the isolated Saint Angraecum Academy, interweaving threads of emotion tangle together in an intricate story of love and truth.
DOWNLOAD
Flowers -Le volume sur printemps-
Win: ANONFILE - MEGA - PIXELDRAIN - UPLOADHAVEN

Flowers -Le volume sur ete-
Win: ANONFILE - MEGA - UPLOADHAVEN

Flowers -Le volume sur automne-
Win: ANONFILE - UPLOADHAVEN -
MEGA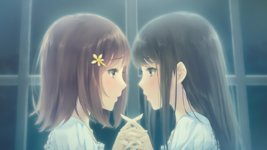 ​