Developer
: Alboe Interactive
Patreon
Thread Updated
: 2021-02-03
Release Date
: 2021-01-31
Censored
: No
Version
: 0.25
OS
: Windows, Linux, Mac
Language
: English
Genre
:
3DCG, VN, Ren'Py, Futa/Trans Protagonist, PoV, Fantasy, Sci-fi, Romance, Humor, Handjob, Anal Sex, Female Domination, Sex Toys, Urination, Vaginal sex, Creampie, Oral Sex, Shota, Exhibitionism
Overview:
"Tired of surfing through dating apps only to find nothing that tickles your fancy?
Sick of the ridiculous bios, altered pics, and cat-fishing?
Want something different?
Sign up for Fantasy Dating and, if approved, you will be heading on an all-expenses paid trip to the city of Integro.
Where a series of arranged dates without the toxicity of today's dating culture awaits you!"
Having read the above advertisement, Nola Lushfield (name changeable) applies and heads off to Integro for a short vacation. Upon arriving, she realizes that "different" is about to take on a whole new meaning. Meeting a succubus and growing a cock is only the beginning of her romantic journey into the lives of some of the denizens of Integro. Besides how they look, the people she dates are generally normal. They are open-minded and desire love, affection, and acceptance just like anyone else. However, the laws in Integro are unusual in that they do extend into the bedroom. As the story progresses, Nola and her lovers will have to deal with issues surrounding violations of cultural norms.
Installation
:
Changelog
:
v0.25 (Day 1 Remaster)
66 new renders for Day 1. Completely changed location of intro subway station.
Reworded some dialogue and lore for Days 1 and 2 to fit the new images and added a few sentences of dialogue to Day 2.
Bonus 42 renders for part of the first date.
New credit sequence for patrons.
Note that the kitchen scene (3 images) will be remastered at a later time.
v0.2
109 new renders include the last part of Day 2 and first part of Day 3. The prologue is now complete.
Moved first Variable Check to after falling asleep on day 2.
Updated tags (shota and exhibitionism).
Changed uncensored code to "TestInProduction" (without quotes) and added a second chance to activate it. If you have an existing save then scroll back to after Ehrlynn's first sex scene, but before she is holding MC's phone, for the last chance to enter the code.
v0.1
First release
Developer Notes
:
Fantasy Dating is designed to be an introduction to the futanari genre and some hardcore fetishes but doesn't follow the usual non-con elements. FD is for anyone who has been looking for a VN featuring harder stuff like rough sex, extreme penetrations, and urination content but in a consensual and romantic setting. The images in this post show some optional paths, you can decline to have MC be penetrated by any character including males. At no point will you be forced to pick any of the fetishes outside of vanilla stuff like handjobs, blowjobs, vaginal, common role-play, and anal. If you're looking to step outside of your comfort zone then give FD a try.

All of the alien and fantasy races will be "Hollywood" attractive, so no non-humanoid upper halves and no fur covering the whole body or face. In future updates, there will be sexual content that caters to furry-based fetishes such as canine/equine genitalia, mpreg, cum inflation, etc. Again, this will be completely optional. The four-legged races like centaurs and hinds will have an extensive plotline, so do note that later in development you may miss out on a substantial amount of content if you skip over it.

Hopefully, most everyone will find something to enjoy in Fantasy Dating.

Because I keep seeing surprised messages about upcoming content, I will clarify:
For Week 1 there is a love interest for all 4 of the sexes mentioned during Day 2. Female, male (a shota and a DILF), andro, and futa (giant). This is UNCHANGEABLE as it took hundreds of hours of work to get to this point. If you can't handle that than this message is your notice to bail.

In addition, this VN is POV. You WILL NOT SEE all of the MC's face.

Any further comments about these items will be reported.
DOWNLOAD
Win - Linux: WORKUPLOAD - LETSUPLOAD - MEGA
Mac: WORKUPLOAD - LETSUPLOAD -
MEGA
Patches
: Unlock uncensored mode by entering "TestInProduction" (without quotes and case sensitive) when starting a new game.
Confirmation "Nice." appears if done correctly.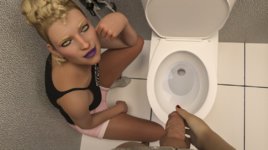 ​