Tech Devil
Administrators
​
Developer:
danbo-rumansion
DLsite
Version:
1.03
Release Date:
Japanese 2016-11-24, English 2020-01-14
Last Updated:
2020-01-15
Censored:
Yes (Mosaics)
OS:
Windows
Language:
English
Translation
: bazeeeng
ULMF

Genre:
2DCG, 2D game, Japanese game, Censored, Animated, Multiple endings, Female protagonist, Creampie, Vaginal sex, Groping, Teasing, Group sex, Sex toys, Rape, Tentacles, Monster, Anal sex, Multiple penetration, Big ass, Big tits
Overview:​
Millete has entered the cave of supreme happiness. But curing her curse won't be that easy. There are dangerous traps down here. She must traverse the dungeon of the cave, and her curse works against her...
Installation
:
1. You need to change system locale to Japanese or use Locale Emulator.
2. Extract and run.
Developer Notes
:
* Character
Millete Meiruty
CV: Meguru Utakata
A female sorcerer with a magic-sapping curse
She seeks the fabled "supreme happiness"
A Moody, small-breasted body type girl
* System
Even though a curse has diminished her battle aptitude...
Millette must overcome monsters and traps in this dungeon-navigation RPG.
If a trap is triggered spam the button to break free.
Of course, leaving her to suffer is its own reward...
Some traps require special conditions to activate
Voice acting can be toggled ON/OFF from the option screen
* Animation
The character is constantly animated in-game, except in replay mode.
If she's idle, if she's bathing, if she's threatened by traps or monsters...
You can enjoy each unique animation for her situation(s).
DOWNLOAD
Win -
MEGA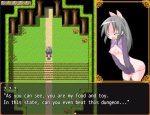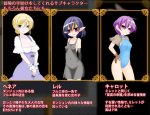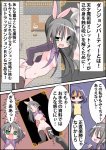 ​