​
Developer:
Dekarous
Patreon

Version:
5.5
Release Date:
2020-08-31
Last Updated:
2020-09-02
Censored:
No
OS:
Windows
Language:
English
System requirements (min):
OS: Windows 7 /8.1/10 | CPU: Intel Celeron / PentiumIII 2GHz; RAM: 4 GB; VRAM: 2GB; HDD: 600 MB;
Genre
:
2DCG, 2D game, Male protagonist, Multiple endings, Combat, BDSM, Blackmail, Corruption, Female domination, Femdom, Fantasy, Humiliation, Rape, Sexual harassment, Sissification, Slave, Teasing, Urination, RPG, Sandbox, Horror,Toilet Slavery, Whipping, Foot Worship
Overview:
Thirteen evil Demonesses are amassing their strength, planning to invade and conquer Earth for themselves. Like many before you, you were chosen by the Goddess of Light, Llavanya, to stop and prevent their devilish plans. But when you're dealing with beings whose only purpose is the submission of those around them... Surrendering might prove a hard thing not to do.
Dark Souls-like femdom RPG. The game is divided into 13 different diverse realms, each housing its own Domina, united by a hub dreamworld. Enter each realm, defeat its Domina and obtain her magic Seal to save your world. Assuming your resolve holds and you don't submit to them, that is.

1.0 includes the first world, the Realm of Dusk, completed. Every update after this will include the next world and its new Domina.
DISCLAIMER: 1.0 and its bugfixes are free, the next updates will be patron only.
Changelog:
v5.5
-Reworked all Dominas' stats, moves and combat
-Added 2 different phases to each Domina battle
-Domina attacks now happen instantly (long asked feature)
-Added 100+ new unlockable skills/spells
-Added class system and skill trees (sub-classes for the Warden, Channeler, Arcanist, Duelist and the Rogue side of Ranger will be added in time)
-Reworked all states (ie bleeding, poison, buffs, debuffs etc)
-Added the Lost random encounters
-Added Weapon Proficiency
-Added Mastery Points
-Added 50+ new items
-Added crafting system
-Added new potions
-Reworked Katrina's and Madeline's maps
-Added loss scenes for all Dominas
-Added 2 new characters to be frens with
-Changed look of text windows
-Changed font
-Switched all text windows to the new texture one by one
-Grammar checked the entire game
-Added names to locations that didn't have them and location names are now shown in the middle
-Added new weapon types
-Added new magic types and elements
-Added new loot
-New arcane fires on the map restore all your attributes
-Gladen Lake is gone, can now restore your Soul Shards through a hotkey
-Can restore however many Soul Shards you want instead of a fixed 7
-New HUD
-Remastered Cerulean Fields tileset (Grim Reaper graphic soon)
-Added ability to gift Katrina or Madeline with a Soul Shard for free to access 4 new scenes in total
-Added new map sections to various realms
-Added new shields (shields are now almost mandatory)
-Grim Reaper now primarily buys your stuff instead of selling you stuff; sellable stuff moved to other merchants (otherwise shop list would be way too long)
-Grim Reaper is now a new man (literally but you can't see it in this update yet)
-A LOT of small changes like changed sound effects, text lines, screen effects etc

Forgot to add the whip weapons in the package, will upload a hotfix for whips and other bugfixes that may happen soon
v3.0.1 Beta
N/A
v2.0
Madeline's Garden of Mazes.
v1.2
-Overhaul of Katrina's realm
-Soul Link: Buffed damage, buffed healing, cost 75
-Flaming Slap: cost 50
-Shadowbound: Invulnerability buffed by 1-2 turns, cost 75
-Starter spells reduced in effectiveness, 50 cost for both (they're not meant to be effectively used)
-Updated Realm of Dusk map for easier movement
-Katrina buffed in Damage and Defense, healing potions are now required unless you high roll critical strikes
-Katrina's whip buffed in damage significantly
-Rocks and Gems in the Cerulean Fields now float in the air
v1.1
-Fixed bug where you could exit the room after the cell escape and break the game
-Fixed a bunch of walk-through objects
-Added missing Enslaved scenes
-Added a 1sec pause after Katrina asks you how you want her to finish you off so you don't press Pussy Worship accidentally as easily
-Added option to stay in the Keep after told by her to run away in the Wimpy Free ending, instead of being forced to actually run away all the way to the gateway
-Added save option before the final choice
-Added Fullscreen mode in Options
-Fixed typos
v1.0
First version of the game.
DOWNLOAD
Win -
MEGA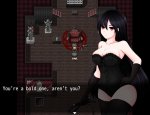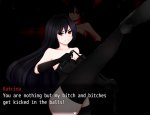 ​
Last edited by a moderator: