Developer
: Mr. B0NES
Patreon
-
Ko-Fi
Thread Updated
: 2021-02-03
Release Date
: 2021-02-01
Censored
: No
Version
: 0.1
OS
: Windows, Linux
Language
: English
Genre
:
MILFS, ROMANCE, BIG TITS, BIG ASS, CORRUPTION, HANDJOB, ORAL SEX, GROPING, VIRGIN, POV, ANIMATED, HAREM, 3DCG, MALE PROTAGONIST, ADVENTURE
Overview:
You will take the role of a perculiar young man who, through shenanigans, ends up living together with his childhood friend, Suzy. Her nan, Claire, is a no-nonsense business woman with a heart of gold, who graciously took you into her home without a second thought, asking only one thing in return: to look after her step-daughter. Raising two young children on her own wasn't easy however, and for many years now she has dragged the two of you from one city to another, relentlessly chasing better and better jobs.
Now, with yet another shiny new position, she drags you again to what she promises will be the definitively last move. What she doesn't know however, is that during those long days alone, you and Suzy have developed an...intimate relationship.
Whilst juggling your responsibilties to Claire and integrating into this new town, how will you handle this blossoming relationship?​
Installation
:
Changelog
:
Developer Notes
:
Deviancy is a first person adult VN, where you will control a faceless MC to romance many, all, or a few of the special ladies in this new town. Currently there are plans for three solo routes for particular characters, and of course the main harem route that I assume most people will choose. Depending on how development pans out, the number of solo routes could be expanded if fans resonate with a particular character(s).

There will be a mix of purely romantic relationships and more slow-burning corruption ones, with alternate routes being planned for certain characters. To rephrase, some characters will only be able to be approached romantically, others strictly corruption based, with a few having both and the decision being left to the MC.
DOWNLOAD
Win/Linux
:
ANONFILE
- FILESUPLOAD - MEGA -
PIXELDRAIN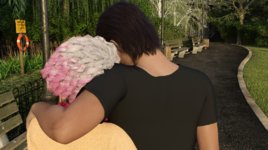 ​