Tech Devil
Administrators
​
Developer:
DuoDevelopers
Patreon
-
Blog
Version:
0.3.4.a
Release Date:
2020-02-04
Last Updated:
2020-02-06
Censored:
No
OS:
Windows
Language:
English
Genre:
2DCG, Text-Based, RPG, Character creation, Fantasy, Dating sim, Male protagonist, Monster Girl, Monster, Oral sex, Anal sex, Vaginal sex, Combat, Furry, Gay, Management, Pregnancy
Overview:​
The game: Debauchery in Caelia Kingdoms (DiCK)
DiCK is a free adult text-based RPG about a MC that inherits the title of a city, few years after a Great Plague scourged the world and transformed a high number of the population in different kinds of beasts and monsters.
Your character has to travel through a world populated by monster-girls(and boys) to reach the capital city, to make his new title official. Along the way you will be confronted with dilemmas and choices, followers will join you, putting their fate in your hands, and ultimately you will shape your city, and the whole island. We have planned 6 endings, 3 for a pure route, and 3 for a corrupting one. We aim to allow the player to customize itself as much as he wants, with different genders, heights, body builds, colours, clothing and hairstyles,while at the same time his choices will change his state of mind and either corrupt him or purify him, so you can play the adventure you want!
Changelog:
v0.3.4a
Lust weapons fixed, now they increase the lust of the enemy instead of reducing it!
Fixed Helena overall (dominance, slavery and break should work properly, but need further testing) and fixed some minor things for other NPCs, also added a small tip when you go to them to make it more clear what you need to do.
Added an option to change the size of the text, at least a game not only for ants!
There were some problems with breast sizes, I think it's fixed but needs further testing
Added an option in the introductory scene that doesnt forces you to fuck Helena
Fixed the plant girl not attacking
Enemy scenes now reduce lust
Fixed the skills not changing correctly, we will soon expand the info about them too!
Also some text had tags around, we have deleted we ones that have been reported but we will look more into it
v0.3.3a
Added a few quests for Dion, finishing his main story!
Conclusion to Lorei's main story (which involves Lucretius more than anyone else)
A very long story scene which includes Tricia, Dion and Lorei, among other characters.
3 Sex scenes for Lucretius (different if you are corrupt or pure)
3 Sex scenes for Vivica corrupt (one with exhibitionism, other with public use)
3 Sex scenes for Lucina pure!
New enemy! The opposum!
Bug fixes, including texts with Helena, Abbadon, Lucretius, Faustina and Alba, among others.
At the end of the month I'll be adding a new NPC (a male grayhound) and the new enemy (the opossum)
v0.3.1 dev
v0.3.1 dev
3 New sex scenes for Lucina queen, and 4 dates.
1 new ending for Luna, plus 3 sex scenes for her submissive version.
New character: Tricia, she is the leader of a small village named Ulvenorth, doing her best to civilize them.
New character: Gedim, he is a warrior and hunter that lives in Ulvenorth, who opposes Tricia's overall plan to civilize them.
New character: Anton, the trainer. For new he has art and 3 quests, the rest of his content will be available next update.
Added transformations when you submit to a wolf, and increased the chance of them appearing in the woods significantly.
v0.3 dev
Adding dates for Livia and Julian, these are only available for their pure routes though!
Added a new character, Baahla, owner of the inn. She has two routes, and a public use alternative too in case you like that.
Added a new character named Vermella, the greedy pawnshop owner. Similar to Baahla, she has two routes, with a corrupt and pure ending.
Bug fixes!
v0.2.9
3 Quests for Livia! Her story is almost done, and will definitely be finished for next update.
3 Quests for Sartornea, the tailor spider-woman. She'll be reworked, so for now I will disable her previous content from the store, but it will be changed and put back after her storyline is finished.
New character: Brontes, a strong male blacksmith, he'll get it's own story line as Livia and Sartornea. His first two quests will be available this month. You can start them by visiting him at his store.
A forced transformation scenes when you are defeated by the wolf in the woods, with sexy content. These (and the mechanic) are WIP and may be changed in the future.
15 new sex scenes for the generic NPCs at the journal, with over 15k words of content, it's worth to pay them a visit. These trigger when they are new usually (if you have low relationship with them and they are not corrupted)
Added the final hangout scene, finishing that part of the journal for now.
Bug fixes, many of them!
v0.2.8
New character: Livia, the baker, she'll have a lengthy story, for now, the first few quests have been added to her, including with her art, portrayed above!
Exploration! Now you can visit few locations around the city. There are 2-3 corrupt and pure events in each (they appear depending on the corruption of your city)
Adding stats to the city, to simulate it's growth and change. This includes taxes, budget points (to be spent in different areas). All of these will have a huge impact in how rich your city becomes (which in the future will mean how much money you earn each day), and also how corrupt it is. You can also have themes in the future, either going for a strict theocracy that fights corruption with a powerful inquisition, or a more hippie, pacifist, super free society, the choice is yours!
Fixing bugs! Including one which blocked pretty much all the content of Faustina, now she's unlocked and you can finish her story line!
v0.2.7
Finished Lucretius story, including the corrupt and pure routes. It also lets you choose what to research first, although this has no impact yet, soon you'll see more about it.
Corruption of Itzel dominant. This content is available if you finished with the church of punishment. If you took her pure route you'll have access to all the scenes, if you corrupted her half of the content is repeatable, so you can see most of it (the most spicy things anyway!)
A new whole set of sex scenes for your workers! In this case the variant is activated if you are corrupt and they are not, next month all of their scenes will be finished, which will total 4 variants (sex wotj good relationship pure, NPC corrupt, MC corrupt, bad relationship)
New sex scenes for the enemy dragons! Both for victory and defeat!
Combat reworked: Game may be a little bit unbalanced for now or tougher than before: Armour and weapons have new stats (although not all the descriptions are updated) and they impact more how you do in battle.
Many new art assets for the NPCs! New armours and hairstyles for the succubus, elf, wolf and dragons!
Added the journal! This took most of the time to have it work properly, but the barracks have been removed and everything related to
management can be find here now.
Added variants to certain sex scenes for the generic NPCs, now accessible through the journal too.
General bug fixes, including an important one that deleted many equipped items.
v0.2.6
Celia's story line finished! With a total of 9 quests (divided in two different paths, depending on your past actions with Itzel), and a corrupt and pure ending, it has some steamy content at the end too!
Next 3 quests for Vivica, this finish all the introductory quests for her, but she will have a very magical role in the story for 0.3!
Added option to transform Itzel (breasts, dick), but still no kinky scenes when you do this.
Added 2 choices to corrupt Itzel via hypnotism, with a total of 26 short scenes: A route with public use and a route without it. NOTE: Currents text are for her pure and loving ending, next month I will do the text for the dominant pure ending of her.
13 new sex scenes for the workers that live in the barracks, includes sex, anal, titjobs, hairjobs and more fun stuff! With variants for futa, men and women.
A lot of bug fixes, some of them very important, but also a lot of minor corrections to grammar and writing, broken pronouns, etc.
A potion to grow a vagina in the store, kinda of a critical omission: If you didn't started the game with a vagina, you couldn't get one in game. Well, now that's fixed at least!
Added 3 new hairstyles for the dragon, so the number of baldies will be reduced significantly!
v0.2.6 dev
-Next 3 quests of Celia in each of her paths (the initial corrupt or pure one). Story changes a bit, and her changes depends on whatever you corrupted Vivica or not, so make sure to save before her to enjoy the different content of both Virgil and Celia.

-First 4 quests of Vivica! Her story line it's pretty long but it will be worth it, since at the end you'll have the choice to learn magic too and change your combat skills appropriately!

-New enemy! The dragon at least! Altho it's has good variety, there weren't enough time to work on the hairstyles so it only has 1 and various bald options with horns... nonetheless its going to be expanded by the final release of 0.2.6! This new addition also includes 3 different defeat scenes and 3 victory scenes. This time around I decided to go with longer scenes instead of many short ones, feedback about this decision will be appreciated!

-More content for the wolf! In this case with 3 new defeat and victory sex scenes for this enemy in particular!

-Transformation scenes for Alba, Abbadon and Helena! These will trigger when you make them grow a dick or increase their breast sizes at the maximum, if you already did or want to repeat the scenes it's kinda easy: Just reduce their sizes with a potion and grow them again!

-Sex scenes for your retainers living in your barracks! For now only 3 sex scenes (give handjob, give oral and receive oral) but many more will come by 0.2.6 with variants if they are corrupt too! Also a sex scene for Alba that you can access after dating her!

-New art! 3 color variants of the dragon with different faces, eyes, etc. And 4 new outfits: A religious outfit, a leather bondage one, a rich and elegant one and finally a maid outfit!
DOWNLOAD
Win -
MEGA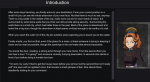 ​
Last edited: